JELD-WEN® IWP® Wood and Aurora® fiberglass doors bring handcrafted luxury and distinction to every style. 
An exterior door speaks volumes about its owner's style and personality. A front entrance is an opportunity to make a grand statement. It's made easier than ever with custom-designed JELD-WEN® IWP® Wood or Aurora® fiberglass exterior doors.
Key elements of the door can be customized with a wide selection of wood species, exotic wood grains, molded fiberglass, glass designs, commercial finishes, and colors. The options make possible one-of-a-kind doors that are as unique as the homes they adorn.
Turn an entrance into a grand statement with JELD-WEN IWP Wood exterior doors
Real wood captures the imagination the way a beautiful view at sunset captures the soul. Beyond superior all-hardwood craftsmanship, IWP Wood is all about custom design. Choose from an array of wood species, including alder, cherry, mahogany, oak, red grandis, and walnut.
Custom design opportunities extend beyond the wood. Each door can be tailored to style and taste by selecting from a range of colors, finish options, and other decorative accents. With a wide range of glass designs, there's sure to be one that matches your style. For a truly personalized look, IWP can work with a custom design to create a truly unique entry. All are designed to inspire the imagination and enable creation of a signature look for its owner. Our talented team of artisans can also hand-cut, bevel, and shape individual pieces of glass for your own custom design, creating an original artwork for your entrance. Each door is architecturally inspired and handcrafted with exacting artistry to elevate any style. From modern to farmhouse rustic, there are more than 170 designs available.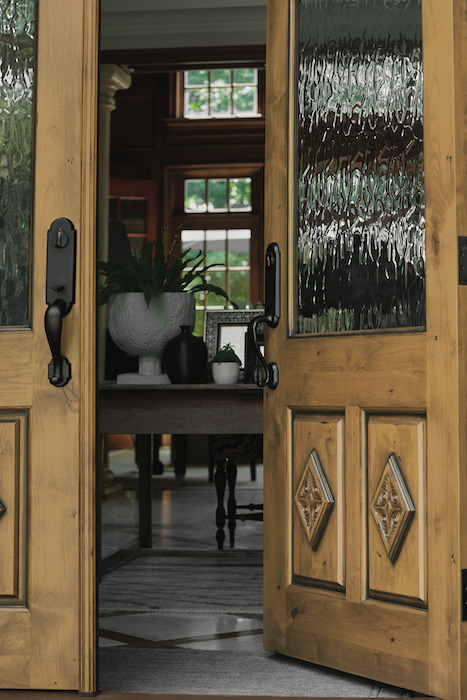 Make an elegant statement of beauty and durability with JELD-WEN® IWP® Aurora® fiberglass exterior doors
A great door feels substantial and solid. That's wood, right? Well, not necessarily. JELD-WEN IWP Aurora fiberglass doors are as unique as they are durable. Identical in look and feel to wood, but able to withstand harsh climates, these fiberglass exterior doors deliver luxury at every level. Working with experts in the boat industry, IWP begins by building a door, chosen for its rich woodgrain detail. That door is then used to shape and mold the fiberglass the way boat hulls were once crafted.
As a result, every detail down to the knots and unique characteristics of the wood is captured with an astonishing likeness to real wood. It even knocks like wood. In addition, each IWP fiberglass door goes through an 11-step building process followed by a multistep finishing procedure. It's this attention to detail that distinguishes ordinary from luxury.
Fiberglass is a beautiful, low-maintenance, high-performance option that resists warping, cracking, and denting. Color, glass, finish, and even the size is customizable to match any style or vision. Make a grand gesture with JELD-WEN IWP Aurora fiberglass doors customized up to four feet wide by 10 feet high for maximum impact. No other fiberglass door goes as wide or high.
Whatever your vision of luxury, IWP can bring it to life
JELD-WEN IWP exterior doors offer the widest, most on-trend design styles in wood and fiberglass. The superior craftsmanship and ability to create a fully custom door are unparalleled in the industry. No matter your preferred look, it can be realized with IWP exterior doors. Mix and match a rustic, down-to-earth farmhouse style with the warm, soft, sunny simplicity of coastal. Add a dash of traditional to the cool, smooth, sleek feel of modern. Luxury is personal, and JELD-WEN IWP is ready to create a door as unique as your design.