Long used for commercial entries, pivot doors have become a coveted look for high-end residential properties. If you're building or renovating for clients who prefer contemporary style and appreciate a front entrance that both welcomes and surprises, large doors with pivot operation are an inspired choice.
The operational basics have stayed the same, but the door styles and textures keep improving, making pivot doors a fresh way to create a standout modern entrance.
How pivot doors work
Pivot doors are supported vertically within the door frame rather than by traditional side-mounted hinges. When closed, it looks like a typical door. When open, there is free space on both sides of the door slab: the active area that guests walk through and the inactive area that gives these doors part
of their striking visual effect.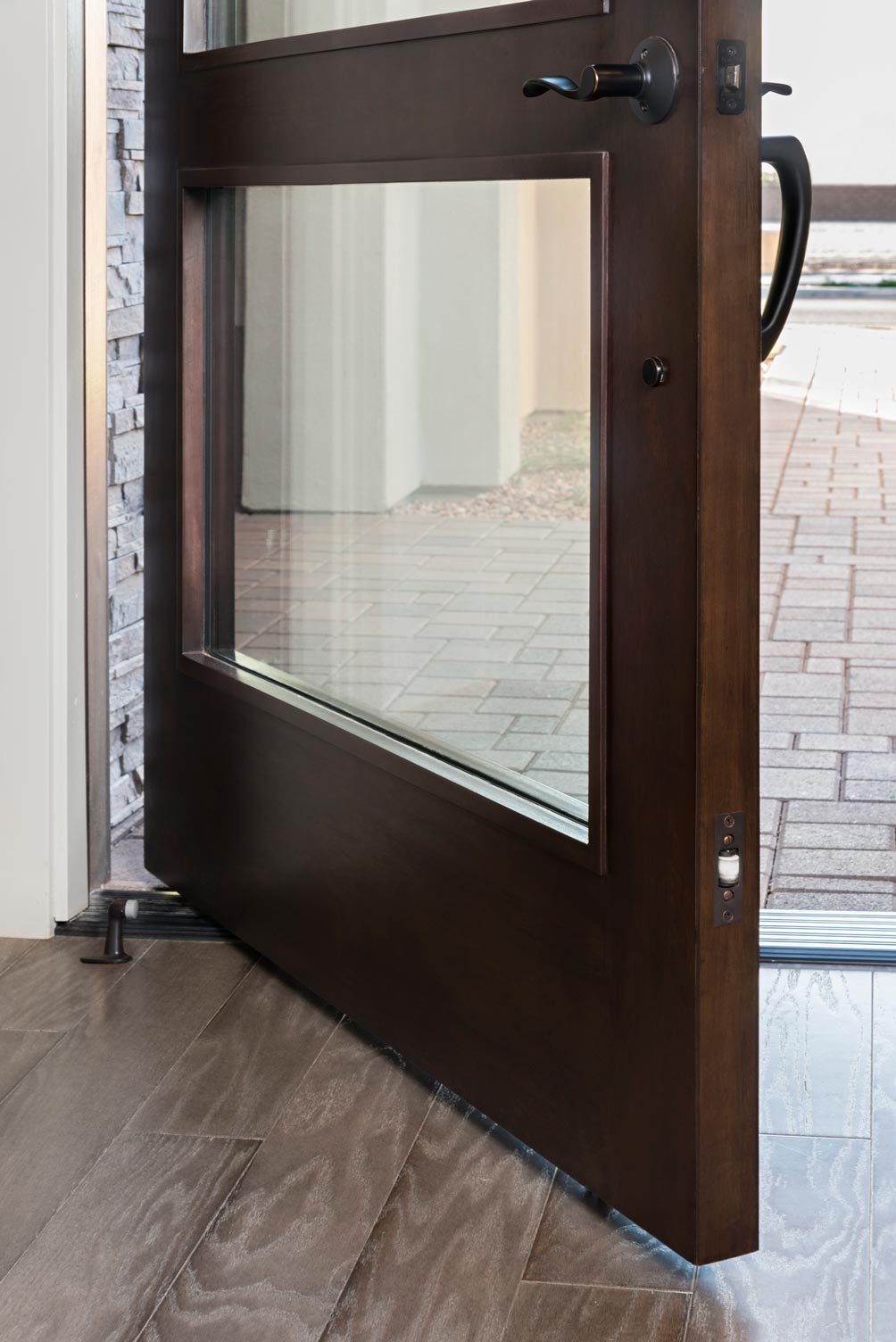 In addition to captivating optics, the unique construction of pivot doors allows them to operate almost effortlessly. Even oversized door panels may be opened with a simple guiding touch.
Pivot doors and home design trends
Grand entryways typically require larger-than-life doors. Pivot doors can be a great choice here as the pivot hardware is able to support much heavier, broader, and taller doors than traditional hinges. Even with an oversized door, smooth pivot operation delivers a "floating" effect, giving the illusion that the door is independent of its frame. It's a very modern vibe — and paired with a contemporary style door design, the results can be stunning.
Pivot doors also deliver a seamless transition between indoor and outdoor living spaces, another must-have home design feature. An easy push and the door swings open to one side. Another light touch and the door closes with an audible click thanks to roller catches.
(One important consideration here: With a pivot door, the "fully open" door slab remains within the doorway opening, rather than fully clearing the opening like a hinged door. If your client requires a doorway with a specific opening width — for example, if someone in the home uses a wheelchair — make sure you use a pivot door slab wide enough to create that active space for your client.)
Pairing pivot doors with sidelites and transoms, and thus bringing in more natural light, ups the contemporary style quotient considerably. It's a unique architectural solution that elevates everything from custom homes to multi-family residences to light commercial entries.
IWP® Aurora® fiberglass pivot doors: stunning contemporary entries
Pivot door hardware pairs impeccably with our contemporary style IWP® Aurora® fiberglass doors.
A mix of advanced technology and by-hand craftsmanship, these doors offer a breadth of design options, beautifully realistic woodgrain detail, and the outstanding durability and superior performance of fiberglass. Plus, there are plenty of options for creating a specific look — from a choice of woodgrains to paint and stain finishes to decorative glass and handle sets. Need a one-of-a-kind design? IWP Aurora doors offer fully custom capabilities, including door and glass design and color.  
One of the most impactful features of IWP Aurora pivot doors is their sheer size. Each door can be crafted up to four feet wide and ten feet tall. They are also available with dual commercial roller catches, pull handles, and deadbolt locksets installed.
More options: real wood pivot doors and metal pivot door alternatives
Prefer the warm appearance and feel of authentic wood? Our IWP® Wood luxury doors are also available with pivot operation, plus the same extensive design options, aesthetic choices, and customization capabilities as our IWP Aurora doors.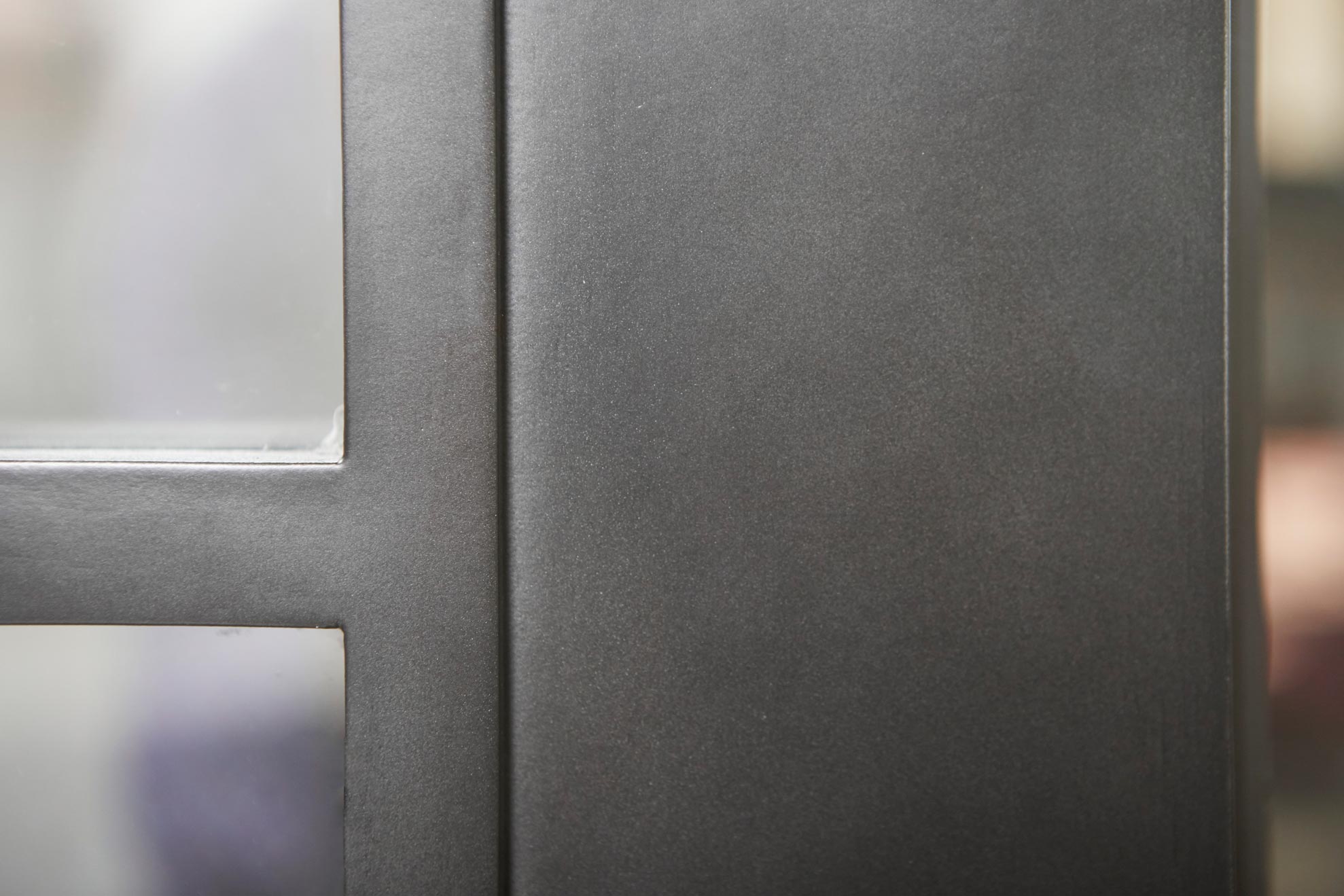 If your client is looking for a metal pivot door for an industrial effect, check out IWP® Aurora® doors with Foundry™ finishes. These innovative paint finishes create the look of artisan iron and steel and, applied to our doors, still deliver the durable performance and easy maintenance of fiberglass — with none of the thermal changes or rust issues of real iron. With our wide range of standard door designs, we offer more style choices and aesthetic options than true iron door manufacturers. Or work with us to turn your custom design into a unique, iron- or steel-look entry for your client's home.
Learn more about IWP Aurora pivot doors here.
See other IWP Aurora fiberglass exterior door designs here.
---
Need help with an upcoming project?
Get in touch with a JELD-WEN representative here.