A Blend of Style and Performance
Your home reflects your personality and style. When it comes to choosing the right door, you want one that not only looks stunning but also stands up to the test of time. Enter JELD-WEN Direct Glaze Fiberglass doors, a stunning combination of elegance, durability, and energy efficiency. In this blog, we'll delve into the myriad features that make these doors a top choice for homeowners seeking both contemporary style and long-lasting performance.
But first, let's go over what direct glaze is and how it differs from traditional glass inserts.
What is Direct Glaze Glass?
Direct glaze glass, also known as fixed glass or frameless glass, refers to large, stationary panes of glass that are sealed directly into a frame. Unlike traditional doors with glass that is held in place with a frame – often with a raised panel look and visible screw plugs – direct glaze glass offers a seamless and contemporary style with enhanced weather performance.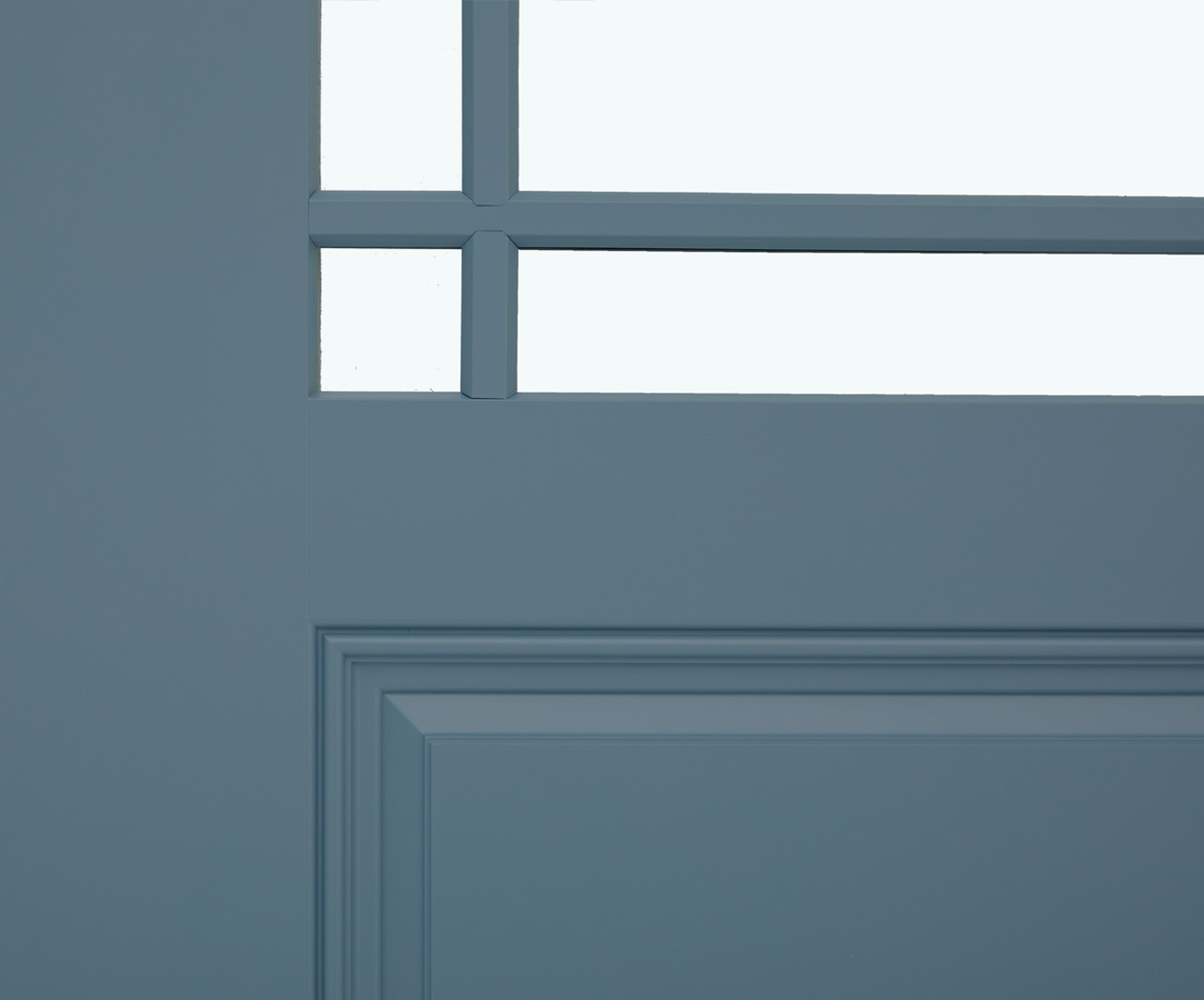 7 Reasons to Choose Direct Glaze Fiberglass Doors from JELD-WEN
1. The Look of Real Wood with Minimal Maintenance
The allure of wood doors is undeniable, but they often come with a significant maintenance burden. With a Direct Glaze Fiberglass door from JELD-WEN, you don't have to choose between performance and aesthetics. Each door design mimics the rich, warm look of real wood while offering a low maintenance approach to upkeep. Overall, you get to enjoy the aesthetic appeal of wood without the hassle of frequent refinishing or the risk of warping and cracking.
2. Unparalleled Durability for Harsh Conditions
Your front door faces the elements year-round, and it needs to withstand everything from scorching heat to freezing cold and wet climates. That's why our direct glaze fiberglass exterior doors were engineered to deliver improved durability that you can count on. They resist dents, scuffs, cracking, warping, and shrinking, ensuring that your door maintains its pristine appearance and structural integrity regardless of the weather.
3. Energy Efficiency for Increased Comfort and Savings
Energy efficiency is a top priority for today's homeowners. JELD-WEN Direct Glaze Fiberglass doors are designed with this in mind. Their advanced construction, including double or triple-pane glass, low-E coatings, and argon gas insulation, significantly reduces heat transfer. This not only helps keeps your home more comfortable year-round but also can lower your energy bills, contributing to a more sustainable lifestyle.
4. Frameless Direct Glaze Glass for Modern Elegance
The frameless direct glaze glass is a hallmark feature of these doors, providing a contemporary, sleek look. It creates cleaner lines, allowing more daylight to flood into your home and providing unencumbered views of the outdoors. The design is ideal for homeowners who appreciate modern aesthetics and want to make a statement with their entryway without hindering the amount of natural light that flows through their welcoming entryway.
5. Endless Style Possibilities with SDL Configurations
Customization is key to making your home uniquely yours. JELD-WEN Direct Glaze fiberglass doors offer a wide array of Simulated Divided Lite (SDL) configurations. Whether you prefer a classic, traditional, or modern look, you can enhance your door's style with SDL bars that suit your taste and complement your home's architecture.
6. Ample Glass for a Stunning Entry
These doors boast an impressive 13% more visible glass than standard options. This not only enhances the visual appeal but also floods your home's entryway with natural light. The result is a more welcoming and inviting atmosphere that leaves a lasting impression on visitors.
7. Peace of Mind with a Limited Lifetime Warranty
Investing in a Direct Glaze Fiberglass door means you're investing in quality. To back that up, JELD-WEN offers a Limited Lifetime Warranty on these style doors. This warranty provides improved peace of mind, knowing that your door is built to last, and any unexpected issues will be addressed.
Find the Right Door for Your Home at JELD-WEN
JELD-WEN Direct Glaze Fiberglass doors are more than just entryways – they are statements of style and quality. With the look of real wood, unmatched durability, energy efficiency, contemporary design, customization options, and a generous warranty, these doors are a smart investment for any homeowner looking to enhance their home's curb appeal and overall value. Explore all direct glaze fiberglass doors from JELD-WEN here.