When homeowners look for entry doors, cost and style are typically at the forefront of their minds. Other factors such as durability, maintenance, and weather resistance are vital, of course, but aren't often their first considerations.
Some consumers may not even be aware of options other than wood doors, even though wood is now the least common material for exterior doors — coming in a distant third to steel and fiberglass. (A recent Window & Door Manufacturer Association report shows that wood doors comprised a mere 2.5% of 2021 shipments, with steel and fiberglass splitting the remainder.) Even homeowners who've heard of other materials may not know how to assess their merits. They often rely on their builder, remodeler, or retail sales associate to educate them on options and make recommendations.
All three materials have points in their favor. Steel is economical and strong, and it can last for a long time in certain climates. Wood sets the standard for the natural beauty homeowners crave for their residences, although it can be cost-prohibitive and poses the most challenges in terms of maintenance and durability.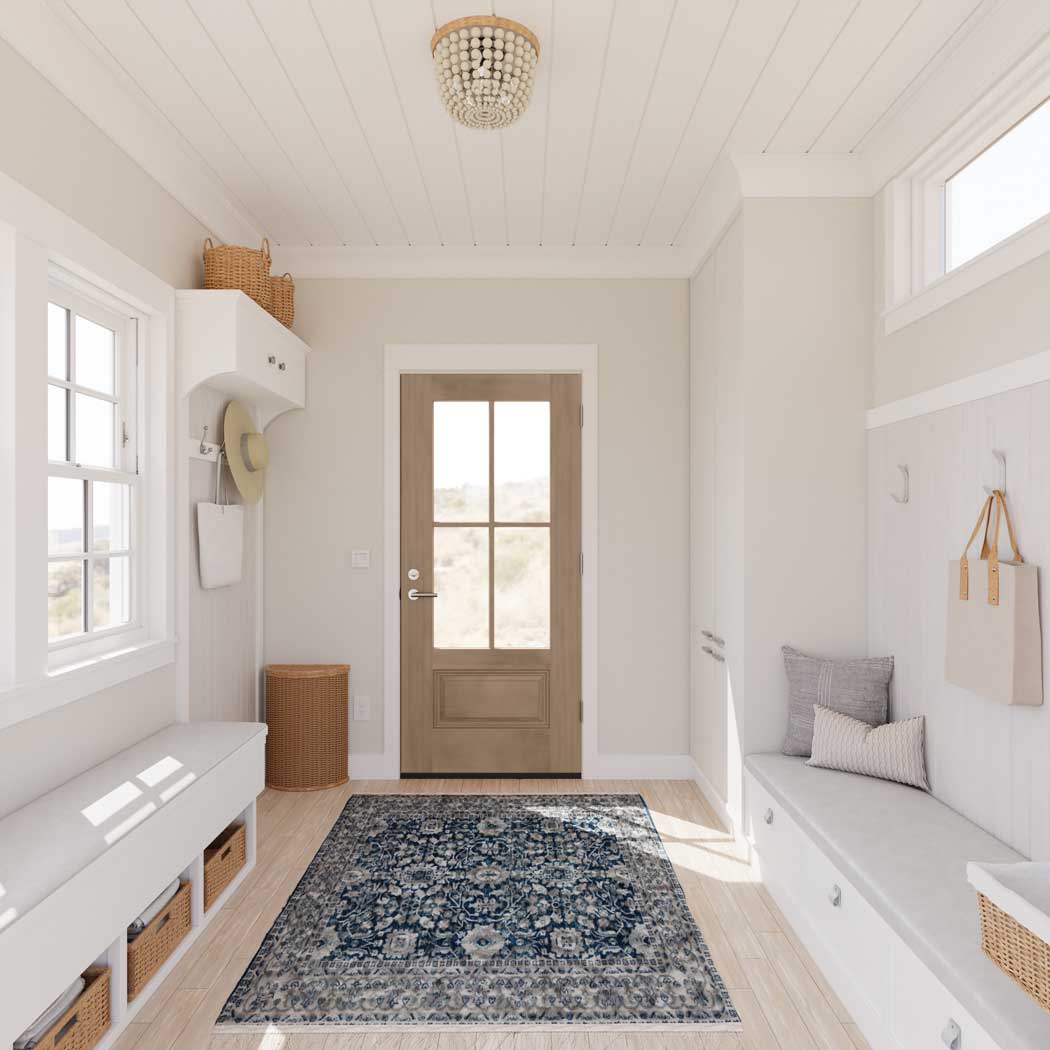 For an option that balances cost and aesthetics — and offers superior resilience against the elements — more building pros are turning to fiberglass for their entry doors. Today's fiberglass doors effectively deliver the beautiful, wood-look appearance homeowners prefer (without the upkeep) and can be nearly as cost-effective as steel.
Once a homeowner understands the features and benefits of fiberglass, it's often the clear choice for their new entry door. Here's a look at what makes fiberglass doors a great solution for most homes — and why they might be the right choice for your clients.
Wide range of options for any budget
Fiberglass doors are attainable for a wide range of project levels and budgets. There are economical options that feature a smooth texture that takes on the appearance of painted wood when finished — such as Smooth-Pro™ Fiberglass doors from JELD-WEN — or provide a convincing woodgrain texture that can be stained to resemble a variety of natural materials, like JELD-WEN's Design-Pro™ Fiberglass. Midrange-to-luxury options offer authentic woodgrain replication that's virtually indistinguishable from real wood; for example, JELD-WEN's Architectural™ Collection, a premium line of fiberglass entry systems, includes door designs in six woodgrains and multiple stain options that, together, capture the characteristic warm beauty of stained natural wood.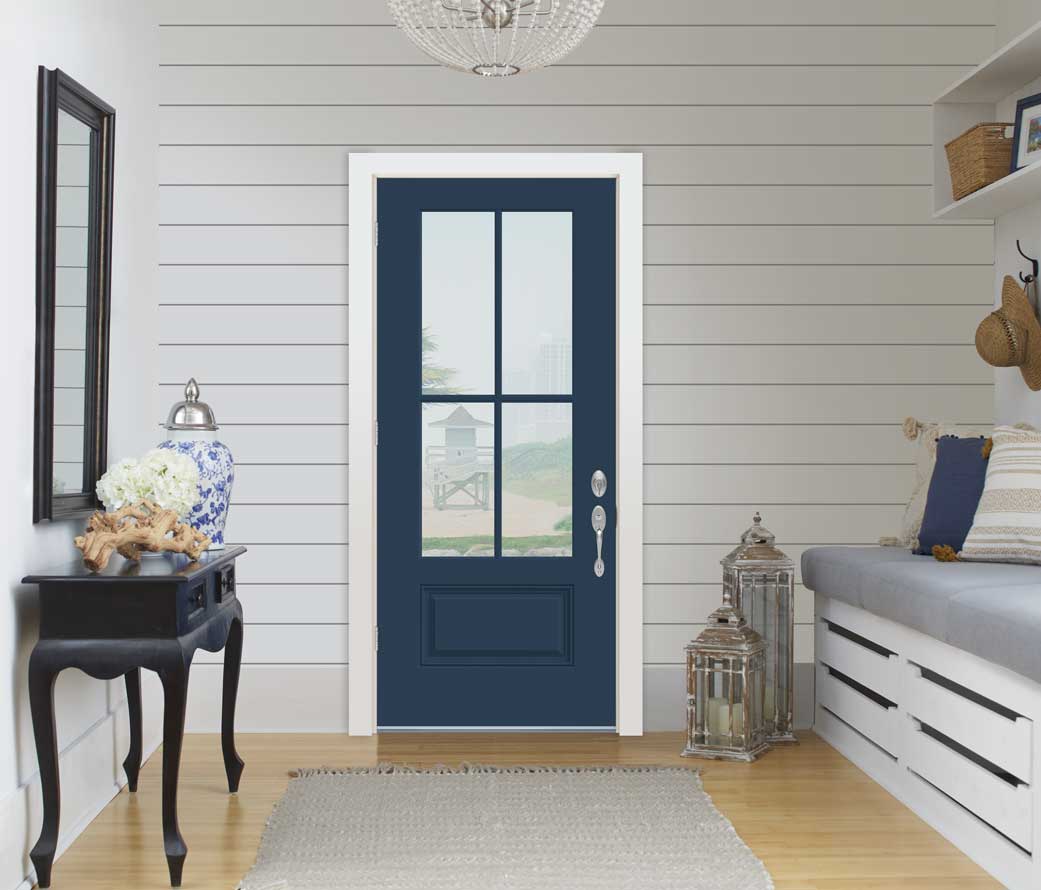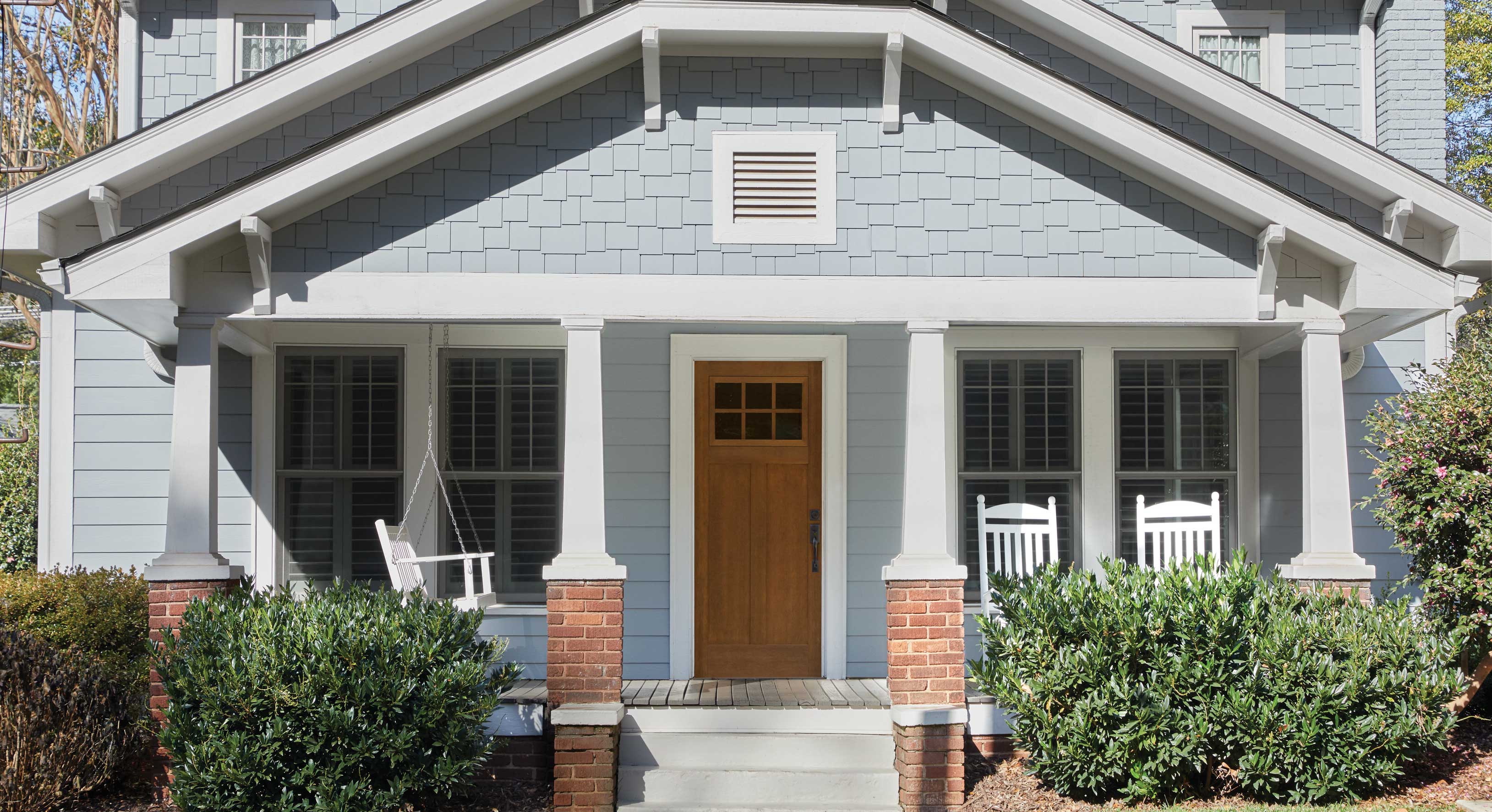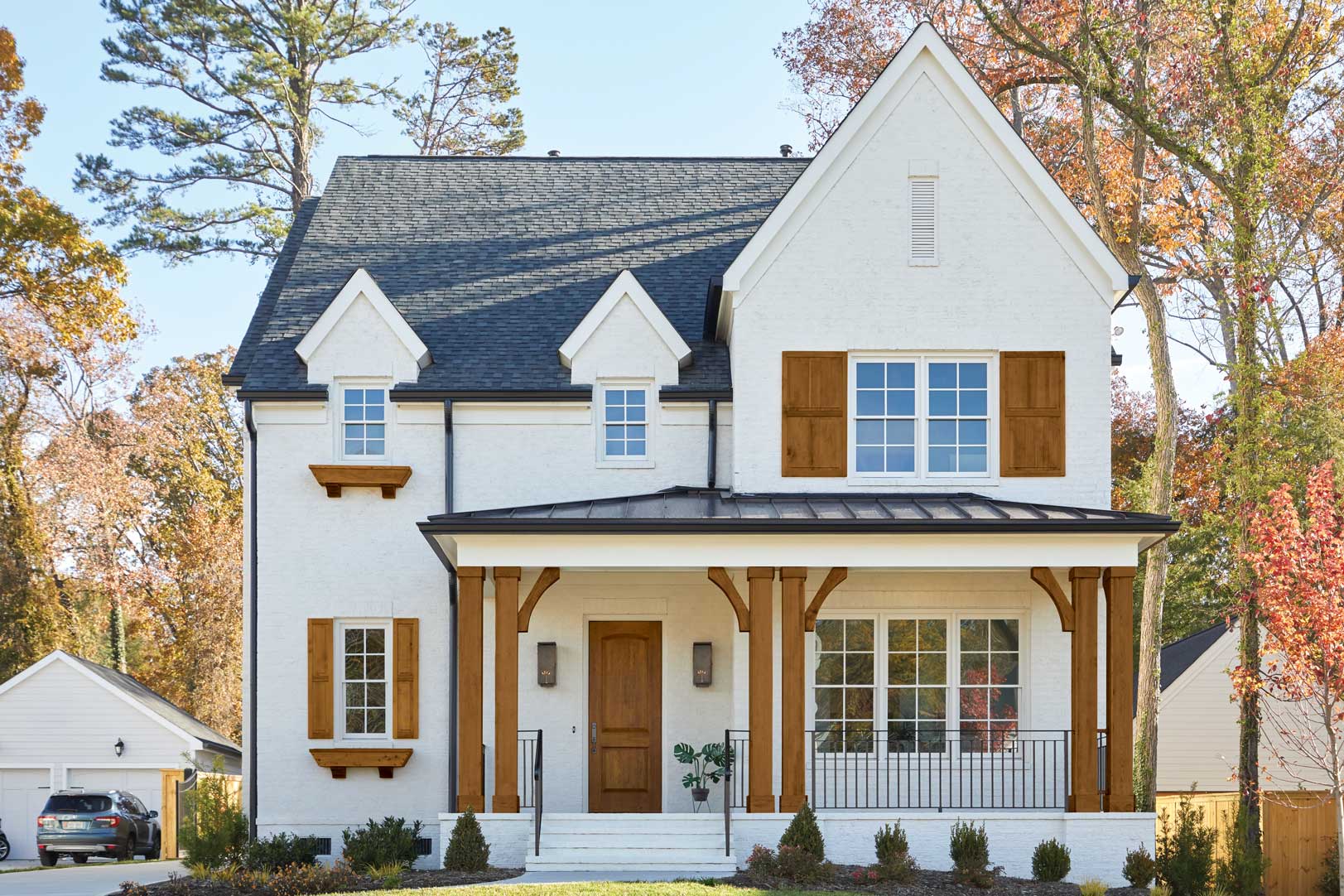 Superior durability and weather resistance
Wood can split, warp, or crack over time, or experience insect infestations. Wood doors tend to swell and rot in humid climates. Steel, while more durable than wood, has the potential to be dented and can be vulnerable to rust and corrosion in wet or salty climates.
When it comes to overall durability, fiberglass exterior doors offer clear advantages. Because they're made from the same types of polymers used to craft airplanes, surfboards, and boats, fiberglass doors are made to withstand virtually any climate challenge, from heat to cold to humidity. Plus, they're impervious to insects. They're also engineered to resist shrinking, swelling, cracking, and rust, and to withstand severe storms. JELD-WEN® fiberglass doors include impact-rated designs, a requirement for coastal regions prone to hurricanes.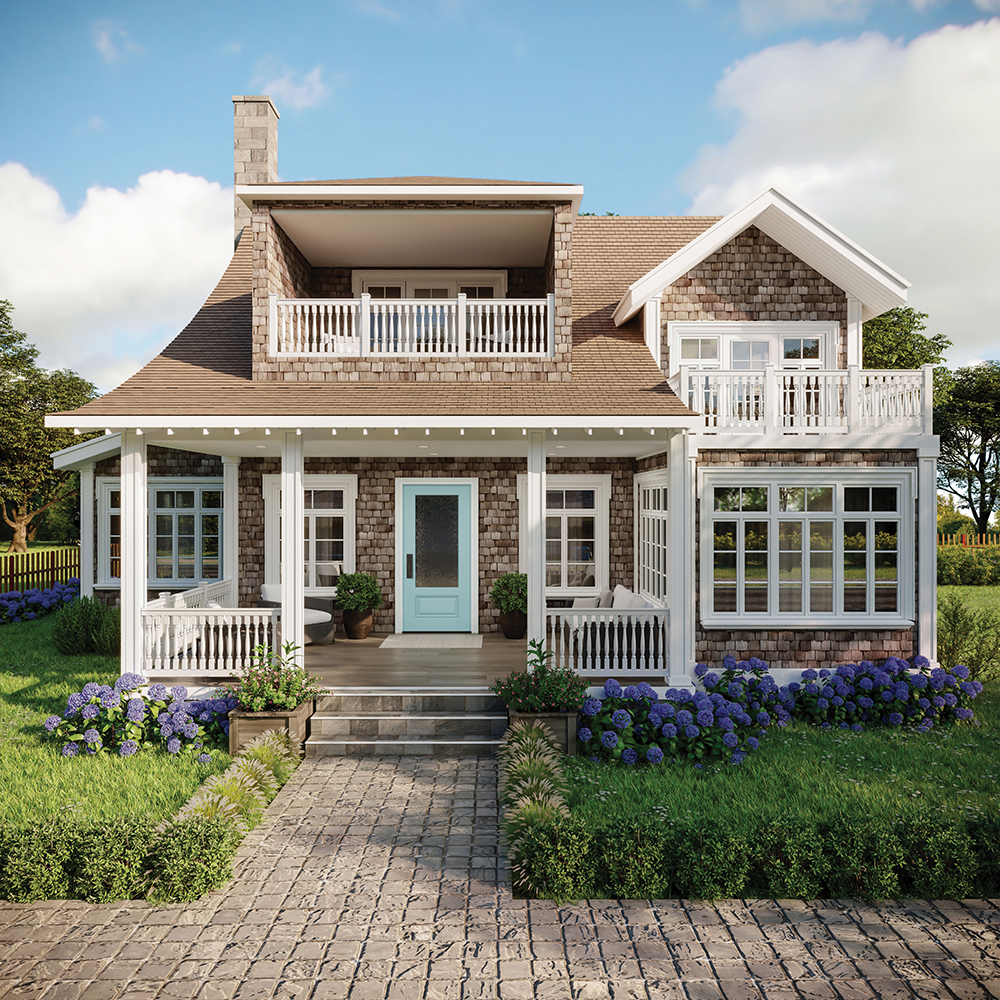 Strong energy efficiency
Fiberglass doors can include a solid foam core that creates an effective barrier between indoor temperatures and outside elements, providing exceptional insulation that even solid wood doors can't compete with. According to the U.S. Department of Energy, fiberglass entry doors can offer more than five times the insulating value of a solid wood door of the same size. Some brands, including JELD-WEN, include ENERGY STAR® certified options.
Easier maintenance for homeowners
Wood doors' beauty can be fleeting without regular maintenance. It's recommended to refinish them every 1-2 years. Fiberglass doors, on the other hand, can keep their appearance for much longer; generally, they only need regular cleaning. And reapplying a finish to fiberglass is simpler and less time- and labor-intensive than the process of stripping and resealing wood doors.
Surprising aesthetics
Fiberglass can be engineered to mimic the grain of dozens of wood materials and can be stained or painted like natural wood. Homeowners looking for an authentic wood-like appearance can find it in product lines such as Architectural™ Collection from JELD-WEN. These entry systems include a door slab and system components that match precisely, each clad in fiberglass featuring Nickel Vapor Deposition (NVD) technology for the most realistic woodgrain replication in the industry. All system elements are finished with a multi-step staining process for rich, vibrant color that resists fading and weathering and brings out the "knots" and character marks of the woodgrain. The result is a visually impressive entrance with a beautifully consistent appearance.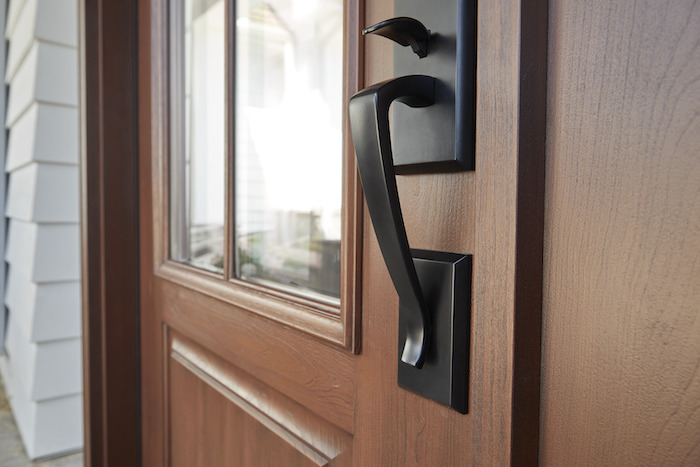 Peace of mind for homeowners
Because they're built for longevity, fiberglass doors often offer much longer warranties than doors made of other materials. JELD-WEN® exterior fiberglass doors are backed with warranty coverage that lasts as long as the homeowner owns and occupies their residence. There's no clearer sign customers can trust a product than when a company is confident enough to stand behind it.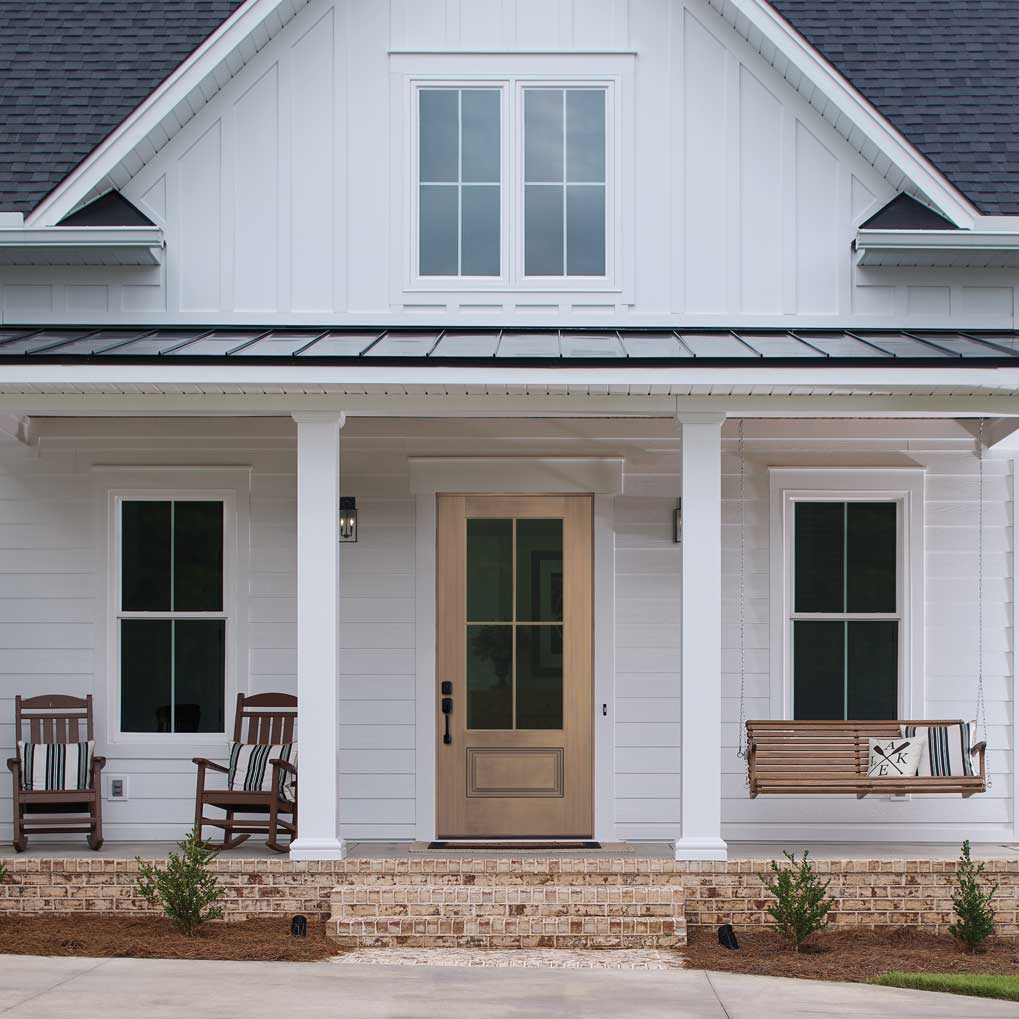 If you want the look of wood on a door that'll withstand any climate, fiberglass is the way to go.

Christina Wolff, Product Marketing Manager for exterior doors at JELD-WEN
When you weigh the most important factors to consider for exterior doors, fiberglass comes out on top time and time again. "If you want the look of wood on a door that'll withstand any climate, fiberglass is the way to go," says Christina Wolff, Product Marketing Manager for exterior doors at JELD-WEN. "And it's within reach for any project … from entry level all the way up to luxury."
Learn More
Access a quick guide to JELD-WEN® fiberglass door options.
Explore all JELD-WEN® exterior entry door products.
Find the nearest JELD-WEN dealer or retail location here.
Sources:
ENERGY STAR is a registered trademark of the U.S. Environmental Protection Agency.