Explore window and door design ideas for this popular style so you can guide the conversation with your clients
The Modern Craftsman was one of the first styles to really be developed in American architecture. Its revitalization keeps its simple roots while modernizing comfort and details. With the style's imposing porches and low roofs, windows and doors are key.
The Craftsman style has been a long-standing favorite since its introduction as part of the Arts & Crafts movement of the late 19th and early 20th centuries. Some of its beloved attributes include thick square or round columns, stone porch supports, low-pitched roofs, wide eaves, and triangular brackets. Its fans celebrate its blending of style and soul.
This is any home's greeting to the world, and it's a major element in Modern Craftsman design. Think large, impressive front porches, a hallmark of Modern Craftsman homes. Favoring detailed and rustic entry doors, this style offers so many customization possibilities.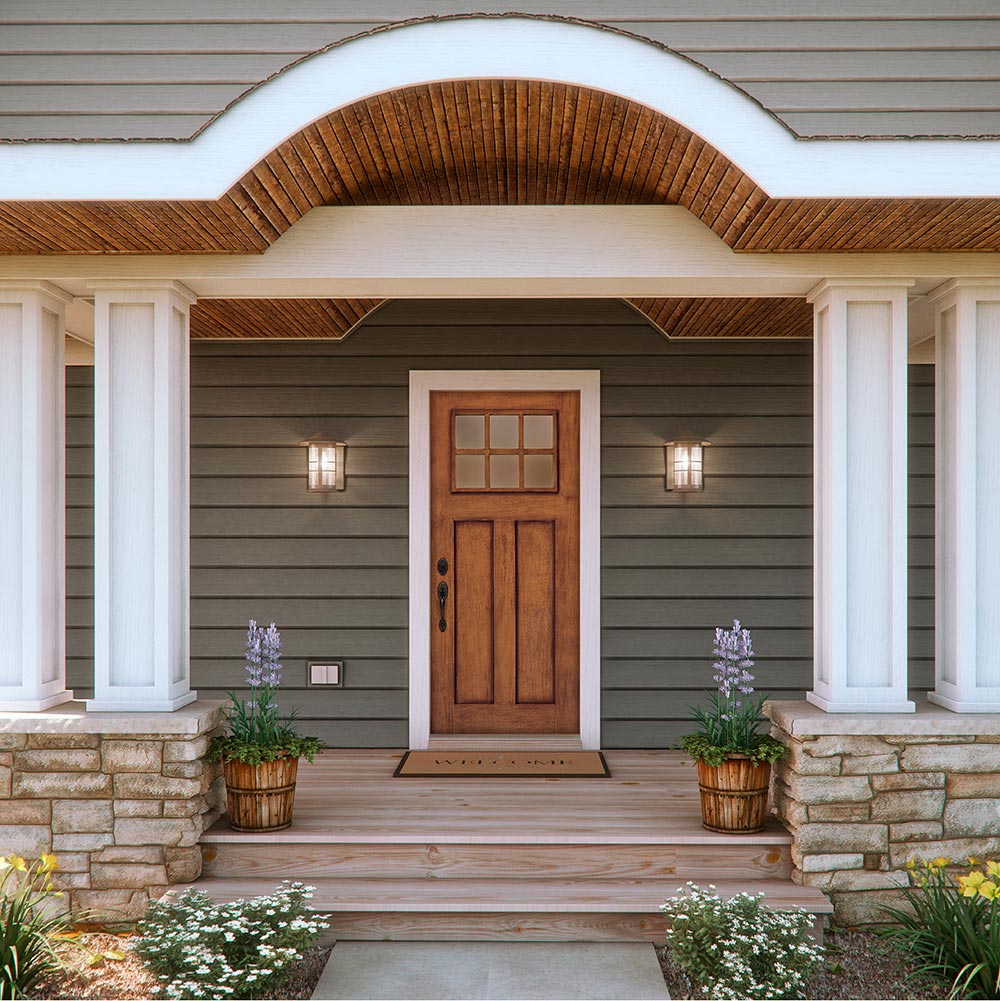 One typically sees wood entry doors with Modern Craftsman homes. It's easy to see why — they're beautiful. But fiberglass can be a great alternative, especially if longevity is a priority. Fiberglass doors are available in incredibly realistic-looking woodgrain that can be virtually impossible to distinguish from wood. Steel is another good option, offering added protection and durability and coming in a variety of colors.
Adding glass to a Modern Craftsman entry door is a memorable way to personalize the style. There are multiple paths for blending glass into front doors. Decorative or beveled glass are popular while patina caming (i.e., grooved metal bars that hold textured glass) also adds unique charm to any entry door.
Interior doors are no longer a design afterthought or chosen just for privacy or sound dampening. With Modern Craftsman, selecting interior doors with an eye to beauty as well as functionality can make a huge difference. Here are some ideas to help those you're working with rethink their interior doors.
Barn doors are an easy way to add functionality and charm to a home. To make it fit within the Modern Craftsman style, use doors that complement the exterior doors. Consider a simple one-panel, a two-panel with the divider about two-thirds of the length, or a three-panel with one horizontal panel at the top and two vertical panels on the bottom. Try a black hardware finish for a simple but eye-catching accent.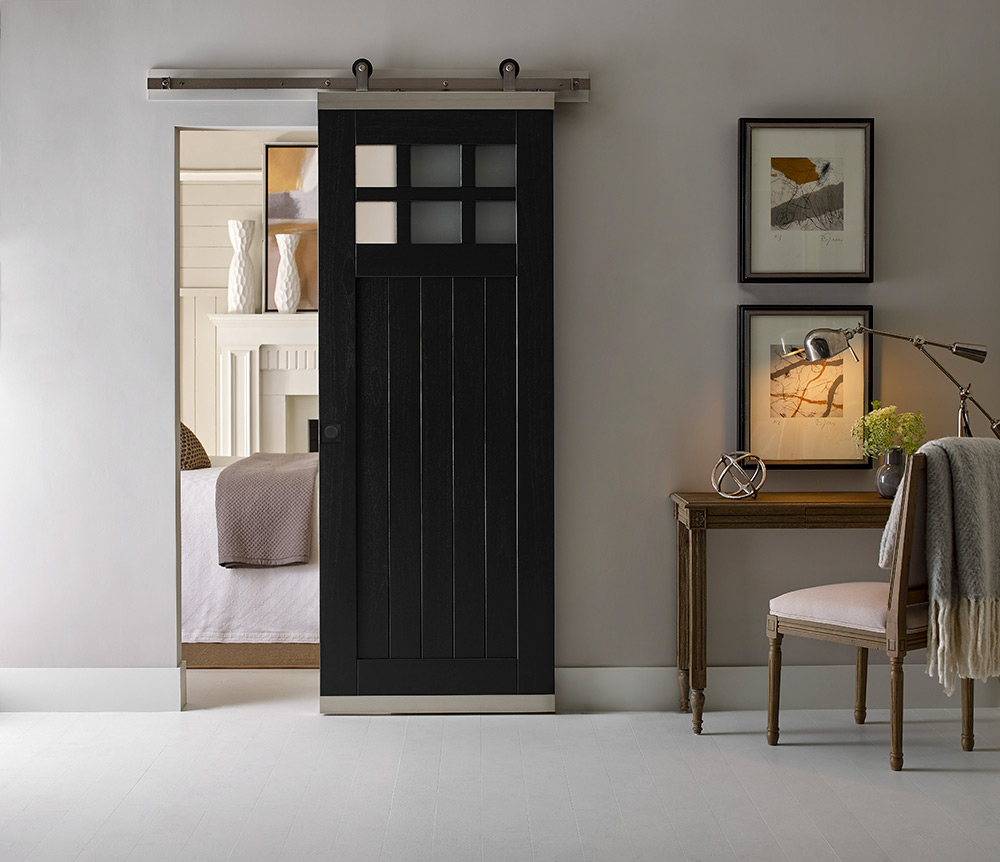 White is a popular color choice for interior doors, but the look of real wood can really make a statement in a Modern Craftsman. Hand-brushing is the optimal finish, and once it has cured the doors can be hung and admired for years. Just as with the front door, if cost or longevity are bigger concerns, you can get that woodgrain look from other materials, provided it is well done.
Popular across styles, patio doors help extend living spaces while letting lots of natural light into the home. A Modern Craftsman can enjoy these same benefits. An effective approach is to borrow some of the same design features as the home's windows, such as grilles and trim, to create a seamless look.
In terms of options, doors that easily open as an outswing or inswing are best in relation to this style. While sliding doors are less prevalent in Modern Craftsman design, they can be used. Patio doors in this style commonly include a top piece with a decorative or more intricate grille. Remember to keep the lines straight and consider using diamonds or turned squares as features. Multi-slide doors are another great alternative, especially for larger openings.
3. Windows
Windows are an important piece in achieving that signature Modern Craftsman look sought after by so many. During its evolution, certain features have become associated with the style. Here are some recommendations to explore as you develop your design.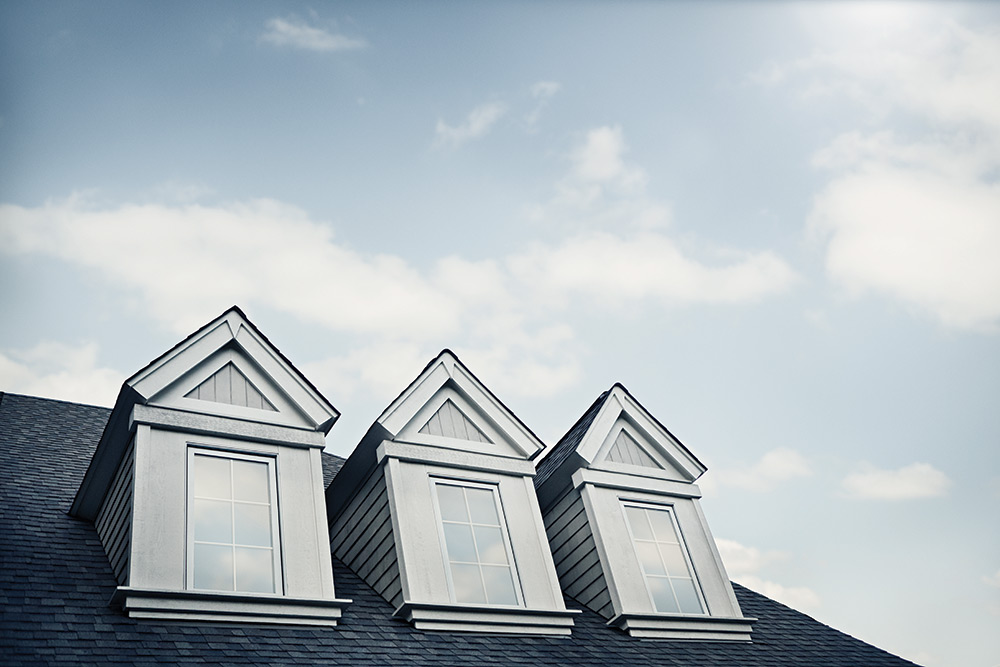 Prairie grilles
The prairie grille is usually just four pieces of grille. Note that they are not evenly spaced, with the center being much larger and wider than the sides. They originated as long, vertical windows in groups, often vertical casement windows. But prairie grilles are now used in most standard-size windows and can match the color of the exterior window or be combined for something a bit more modern.
Top one-third grilles
These grilles are most often used in double-hung windows. The grille pattern represents the top one-third of the windows. The top-one-third approach is used on upper and lower windows, although it does not have to be consistent. Often, it relies on the same design as the front door to create a more cohesive look.
Grilles between the glass
There are even simulated grilles that actually fit between the glass. Called grilles between glass (GBG), they are not exposed to the elements and are therefore easier to maintain and keep clean.
4. Trim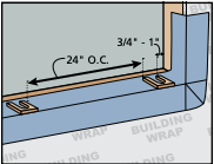 When aiming for the Modern Craftsman look, you can consider a number of different options for trim, both interior and exterior.
Interior
Interior trim can be finished to match any of the other wood elements in the room. Think floors or cabinets. White is a frequently used color in this style. If the design uses oversized molding, white can add distinction to just about any interior, especially if the home's walls are a medium to dark color.
Exterior
Exterior trim gives windows more depth. This is important in Modern Craftsman homes as they often have larger shingles and you don't want the windows to be dwarfed by other exterior elements. Finish or paint the trim to match an accent color on your exterior to make the windows pop and spotlight the grille pattern. A thicker top molding on both the interior and exterior is also a classic Modern Craftsman signature.
5. Glass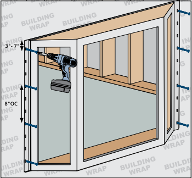 Decorative glass can offer a nice alternative to grilles. It is typically used for smaller accent windows or top panes in a set of windows. If there are windows on either side of a fireplace, this is an ideal area to try deco glass. Another good spot is above front windows. You could even try some colored stained glass on a long accent window in a hallway or powder room. Straight lines tend to work better for Modern Craftsman than delicate curves.
As we've seen, windows and doors are key pieces to achieving the desired Modern Craftsman look. Ready to design yours? Browse the Modern Craftsman windows and doors available from JELD-WEN.