Designing a house that feels like a home goes beyond choosing the layout, fixtures, and furniture. Creating a home that your clients will be comfortable in requires thinking about the little details that either add beauty or functionality to their everyday life.
When you're looking for new ways to enhance the interior design, reduce sound transmission, or create unique focal points throughout the property, consider upgrading the interior doors. The right statement interior doors can update the entire feel of a space and even offer additional privacy, depending on your client's preferences.
Here are a few ways you can create an environment that better meets your client's needs using interior doors.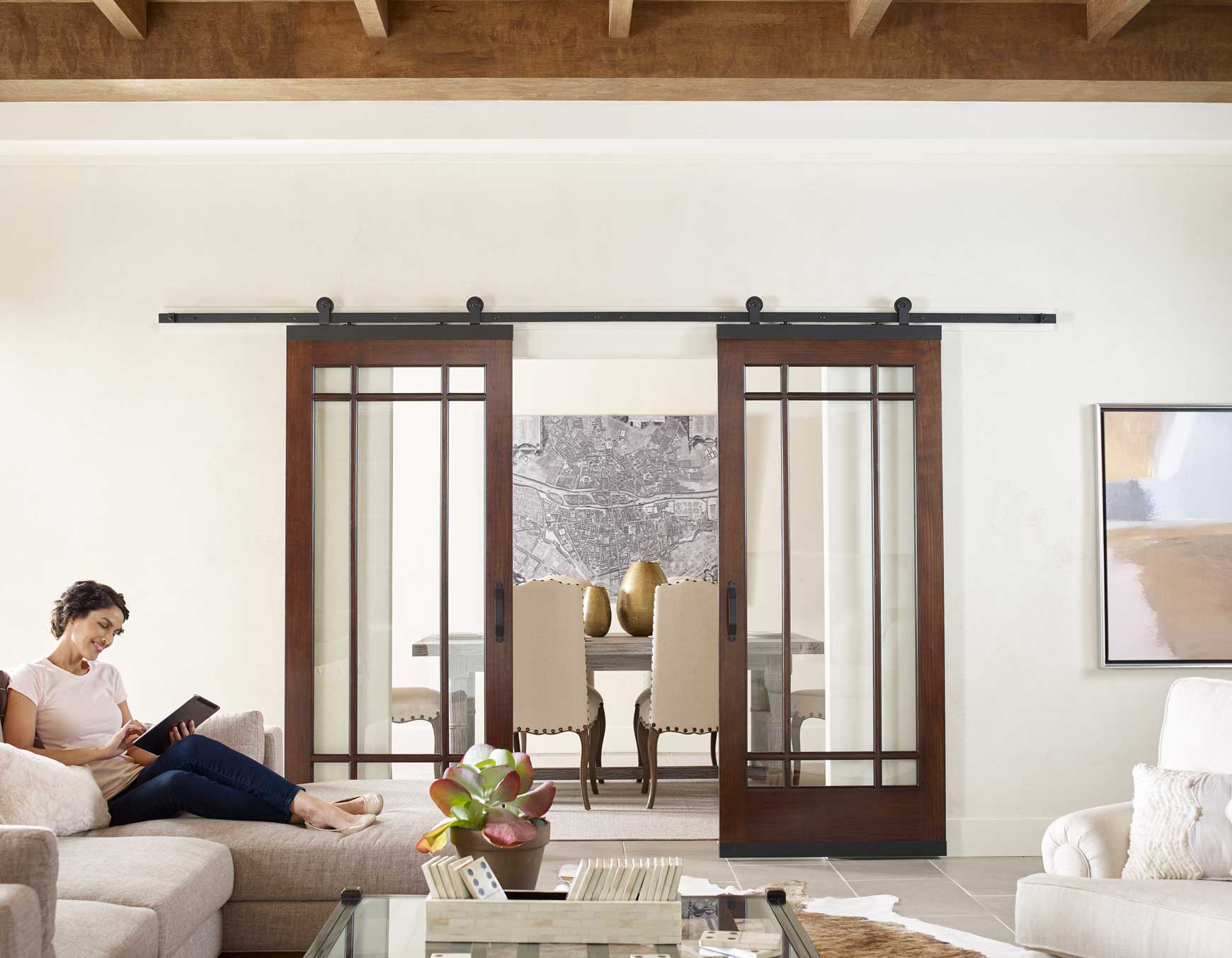 Use statement interior doors to add visual interest to transitions
Traditionally, most homeowners probably don't notice their office, bathroom, or mudroom door. They open and close them when necessary but the door itself is just a function versus a design piece. Instead of creating an endless flow between spaces within a residence, consider marking the transition using a statement interior door. For example, installing double barn doors with decorative glass as the entrance to an office makes the space feel grand before any furniture is installed.
If homeowners are looking for an easy way to disguise a messy mudroom, consider recommending a solid panel colorful interior door that can make interior décor pop that looks better closed instead of open. Through JELD-WEN's interior door collections, finding the right interior door that leaves a lasting impression is simple, regardless of your client's design preferences.
Reduce everyday noises for a quieter home
Life is full of noises – from a running washing machine to the kids running down the hallway, there are few truly quiet moments. But with the right interior doors, everyday noises are muffled, delivering a quieter environment for homeowners. The key to dampening sound transmission lies within the door. Hollow core doors tend to have lower STC ratings, meaning sound moves through them easier.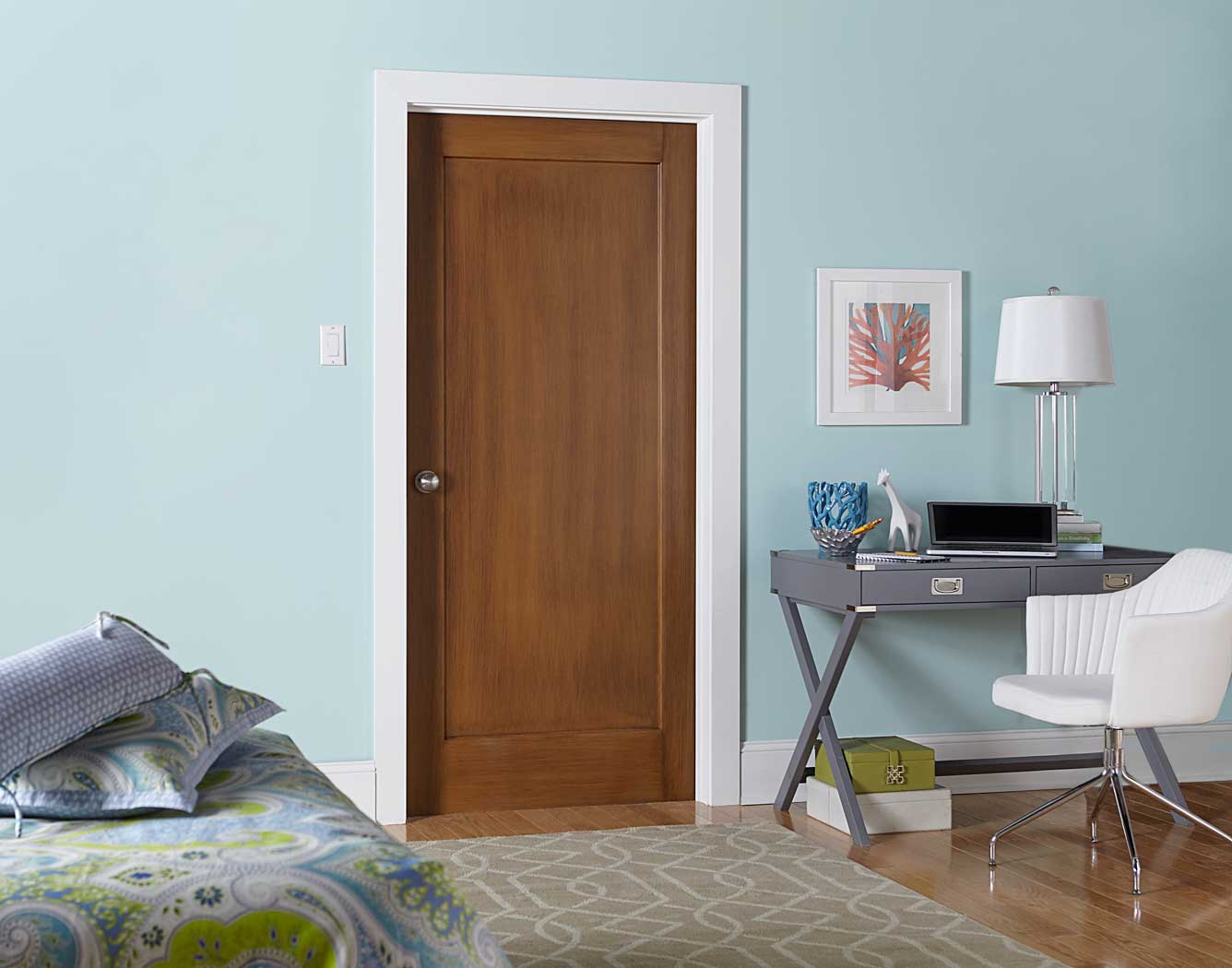 Whereas solid core doors or ProCore™ doors from JELD-WEN are engineered to reduce sound transmission, creating a quieter environment. These types of doors are ideal for laundry rooms and office doors. By installing solid core Stile & Rail doors, you can deliver beauty and performance. Available in a variety of panel options with intricate details and woodgrain options, there are numerous interior door choices to meet any design needs or budget.
Design tip: If you want to match your door to the other doors in your home but with added sound resistance, choose your preferred molded design and add a ProCore® upgrade.
Add a stunning focal point to any space
Areas like kitchens, bedrooms, or bathrooms typically have doors that could use a refresh. Instead of recommending an interior door that matches the rest of the doors throughout your project, think outside the box. Recommending an arch top door for a bathroom adds visual interest and creates unique lines that naturally draw the eye toward the ceiling. This style door pairs well with a chandelier or intricate ceiling design.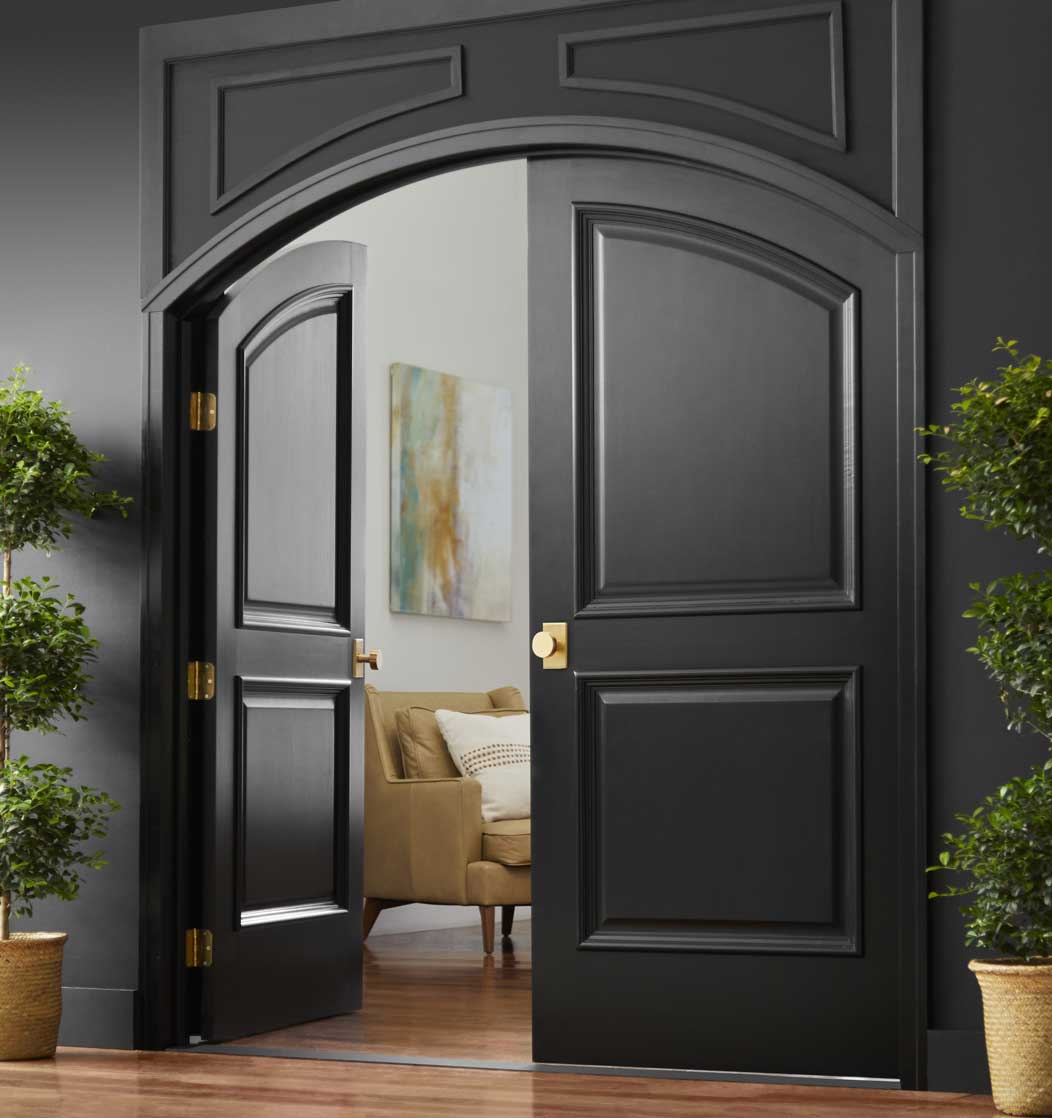 If your clients want a master bedroom that feels like a personal getaway, consider showing them French door options or an ornate door design. Bold door designs, like those found in our Karona™ product line, can make any bedroom feel special. To improve the design of the kitchen, swap a traditional pantry door for a statement door with glass inserts and sleek hardware. Privacy glass inserts allow for light to flow through while obscuring what's behind it and adding visual interest to the door itself – this is an ideal solution for a pantry door.
Create stunning spaces with JELD-WEN
Exceed your client's expectations when you start thinking of interior doors as elements that can enhance the overall look and feel of your projects. They don't have to plainly serve a basic function – they can improve your client's day-to-day life either aesthetically, functionally, or both. Browse all JELD-WEN interior door collections here.