Creativity and inspiration can come in many forms, whether you're scrolling through social media for images to recreate in your remodeling project or just window-shopping. Finding inspiration is easy but implementing the latest design trends and bringing your vision to life isn't always straightforward.
Designing your dream home means paying attention to the little details that make a big impact. It goes beyond interior design and takes your entire home into account. From the materials used on the exterior to the window frames and flooring materials.
Whether you want to be on the cutting edge of latest styles in design or create a timeless, comfortable home, finding the right products to bring your vision to life is crucial. Before you start thinking about doors to replace and wallpaper to hang, it's important to think about the overall style you're looking for.
There are many different types of interior design, from minimalist to bohemian, art deco to farmhouse. Regardless of your design preferences, each design falls into four main categories: traditional, modern, contemporary, and transitional. At JELD-WEN, we created our style collections keeping these categories in mind, giving you the ability to blend styles, stay within certain design trends, or think outside the box with ease.
Within each category, there are beautiful substyles that you can incorporate into any home décor and design. Let's take a closer look at each category.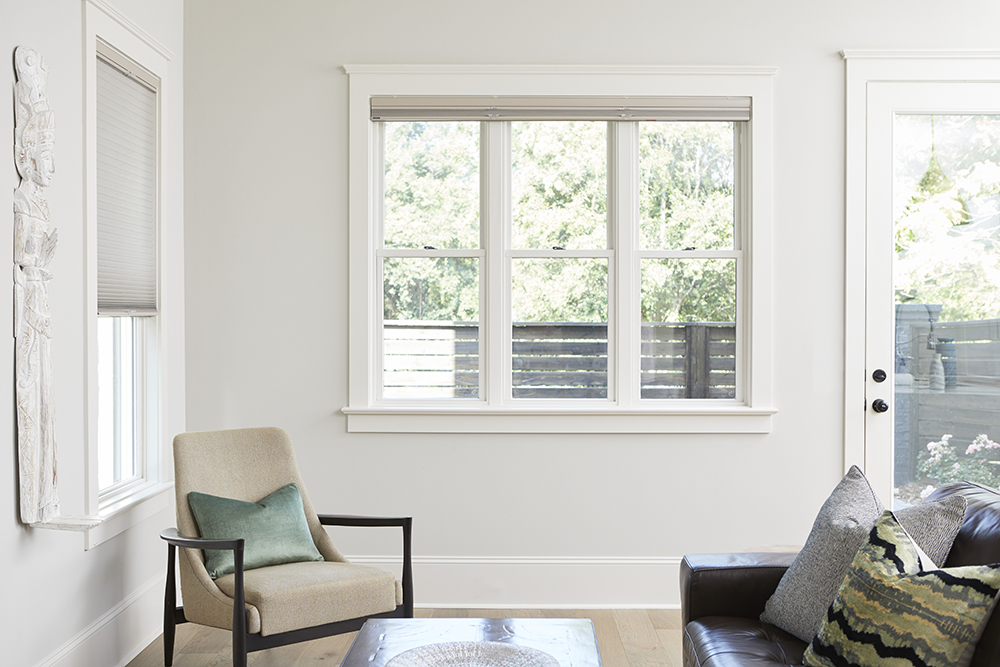 Traditional Style
Just because it uses the word "traditional" doesn't mean this home style is dated. Traditional homes can exhibit unique and elegant styles that are deeply rooted in history. Traditional home design is based off of hundreds of years of style and builds that incorporate key elements characterized by different eras in time. Instead of copying old design styles, traditional homes tend to pay homage to the heritage of the design – whether it's elevating the historic exterior shape of the home or retouching original crown molding, traditional homes have certain elements that emerged from different influences throughout history.
Overall, traditional style homes have structure and balance while using embellishments, patterns, polished wood, and symmetrical style. For example, choosing a wood exterior door with new decorative glass designs or the molded panel interior Cambridge door would be a great choice to complement a traditional style home.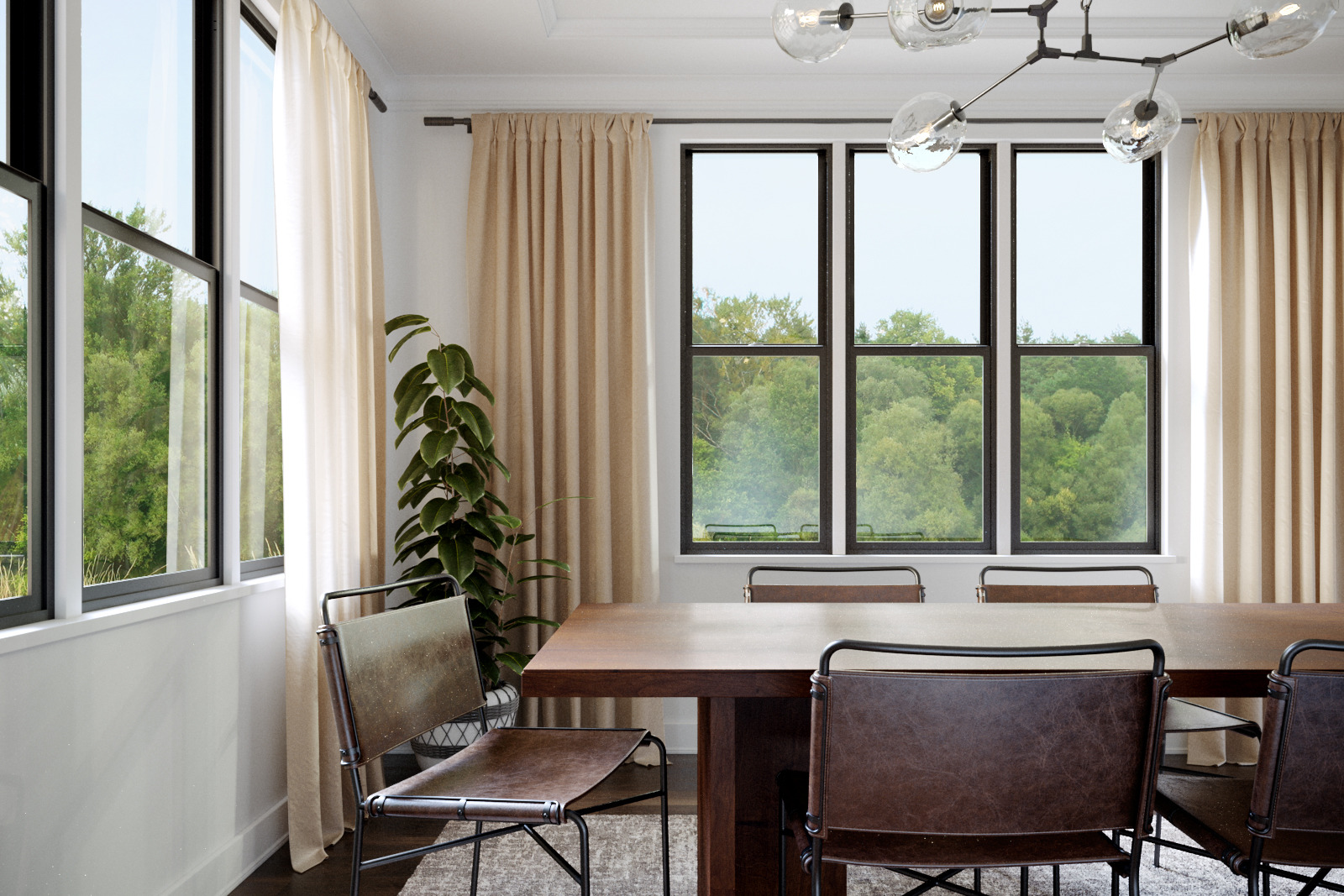 Modern Interior Design
Although the name itself could lead you to think "modern" means current design, it actually points to a specific time period deeply rooted in the 1900s. The use of different building materials throughout the 1900s allowed straight lines, steel, concrete, metal, and glass to become integral aspects of modern interior design.
On top of new building materials, modern home styles reflect open spaces, minimalism, and utility. By highlighting modern industrial elements, designers created a monochromatic foundation with pops of color that has become the standard for most modern homes today. Windows with interior black finishes – like our Auraline® True Composite windows – and exterior doors that feature geometric designs are both great choices for modern style homes.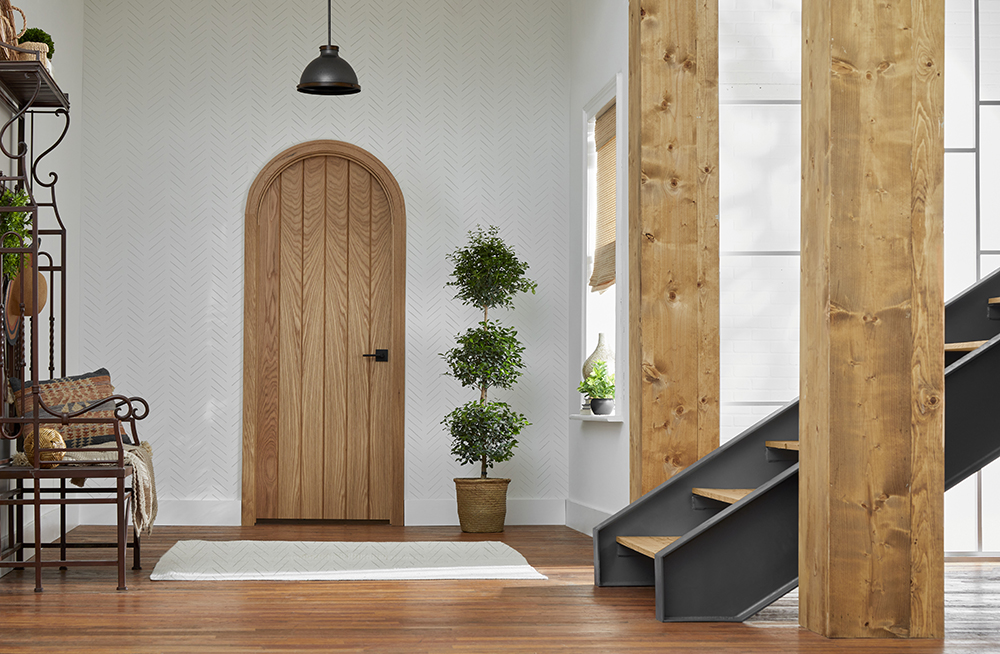 Contemporary Home Styles
Unlike modern design, contemporary design is fluid. It refers to what's trending and innovative at the time of the build. Within this category, there are similar attributes that can be found in both modern and contemporary, such as straight lines, natural woods, metals, and glass. The main difference is that contemporary style homes incorporate more sweeping lines and curves to create more comfortable, warm spaces.
Contemporary homes incorporate thoughtful embellishments and accents to accentuate the interior design of the residence. It typically includes more color palettes, fun accent pieces, unique architecture, and warmer color tones. Think of contemporary designs as the warmer version of modern homes. Since this home style is fluid, it tends to live on a scale of time periods versus in conjunction with one period.
To keep your contemporary home refreshed and up to date with current trends, little adjustments should be made every couple of years. A recommended update is to install or replace your patio doors. Choosing a patio door like Siteline® wood multi slide doors can be critical in elevating the interior and exterior design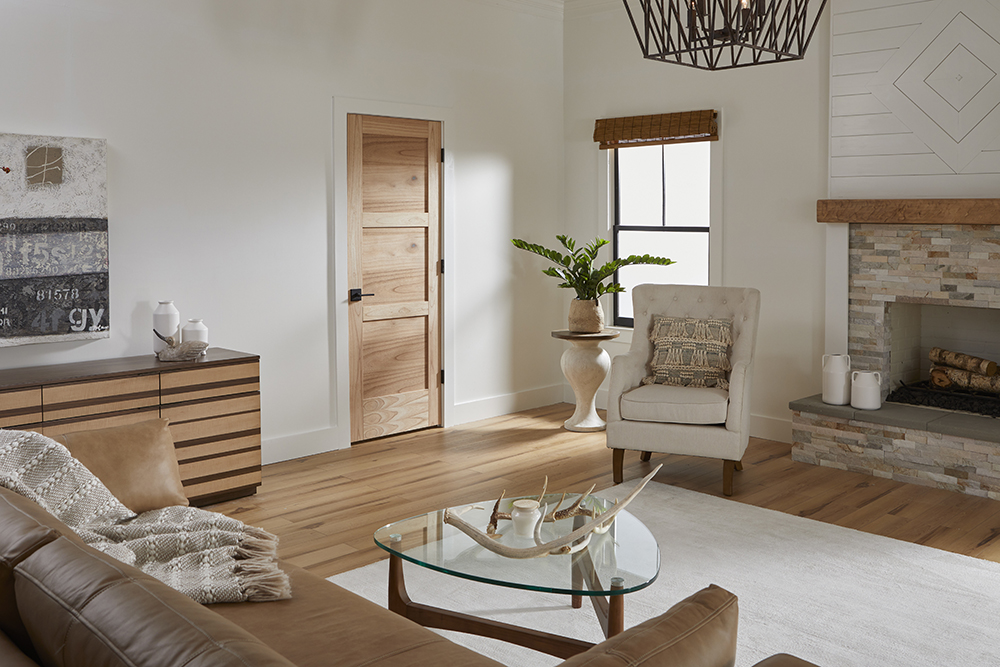 Transitional Interior Design
This is the most common style you'll find today. Transitional styles take inspiration from traditional and contemporary styles – enabling complete design freedom. The modern farmhouse is a fantastic example of a transitional style. It pays homage to both contemporary and traditional interior design by blending traditional farmhouse elements with modern accents, including the color palette of black and white.
Another example of transitional design is bohemian style, which is all about eclectic colors, patterns, and textures in a calm atmosphere. Anyone can create a beautiful space that suits your style and needs by combining certain style elements in a unique way. For example, incorporating EVELIN™ interior doors throughout your home beautifully merges functionality and aesthetics that can add interest to your interior décor while making a statement. Transitional styles allow you to pick and choose what works best for you.
Windows and doors add important finishing touches
When you're designing your space, the windows and doors you choose are critical to create a cohesive design that flows well within your home. Cohesive design is intrinsically calming, welcoming, and relaxing. Disjointed spaces can cause subtle tension and trigger the feeling that something isn't quite right.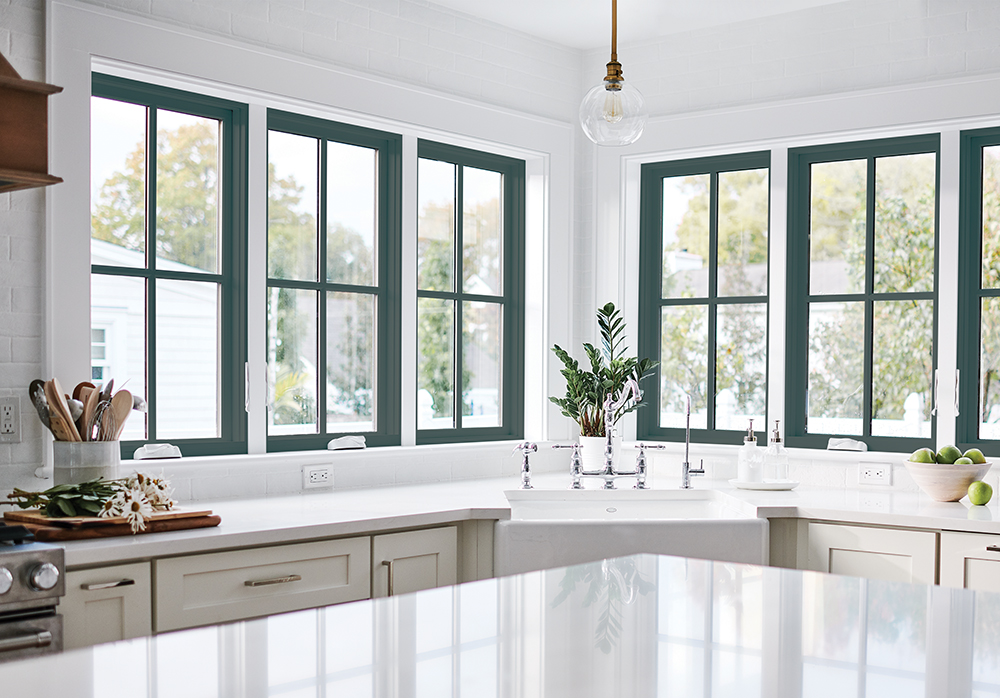 Although you may consider your windows and entry door as part of your home's exterior, they both are an important part of your interior design as well. The foyer is the introduction to your home and the first opportunity to showcase your style. The windows provide lighting and design that influence the feel in each room throughout your home.
Take a look around your home. Look at the style of your windows – are there grills? What color windows do you have? Next, look at your interior and exterior doors. Do they evoke the feeling that you want them to? Do they elevate your décor and design choices or distract from them?
Here are some additional questions to consider when evaluating the windows and doors in your home:
Do you need ample fresh air in certain spaces?
Would you prefer a completely unobstructed view?
Do the color of your windows complement your interior décor?
What statement do your interior doors make?
What does your entryway say about your home and your unique style?
Do you want to improve the amount of natural light in your home?
What materials are your windows and doors made from?
Do your windows and doors improve the energy efficiency of your residence?
These are just some questions to consider when you're looking to make a big impact on the overall feel within each space in your home.
Find the right products for your whole home at JELD-WEN
At JELD-WEN, we create windows and doors that offer quality, performance, and aesthetics. From statement interior doors to patio door systems, you can find the right product that suits your unique style. Consider choosing a radius top window or a pair of French doors to reimagine the spaces in your home. If you can't find the perfect product for your home, contact us about a custom front door or window. To learn more about our comprehensive style collections, click here.