Modern and minimalist are among today's most popular interior design styles. Their staying power has made them solid options for homeowners looking to invest in an aesthetic that will remain on trend for years to come.
It's not unusual for "modern" and "minimalist" to be used interchangeably to describe similar design styles, but there are key differences you should know. Here's a look at what they have in common, what sets them apart, and which JELD-WEN® doors and windows can help you create the right look for your build or remodel clients.
What is modern design
Modern design in the U.S. originated in the 1930s with a shift from heavy ornamentation to a more streamlined, simple look. The idea is "function over form" — that the practicality and functionality of a space or a piece of furniture are more important than its aesthetic details, especially if those details are fussy or overly ornate. If an item in the home does not serve a practical purpose, it may be eliminated.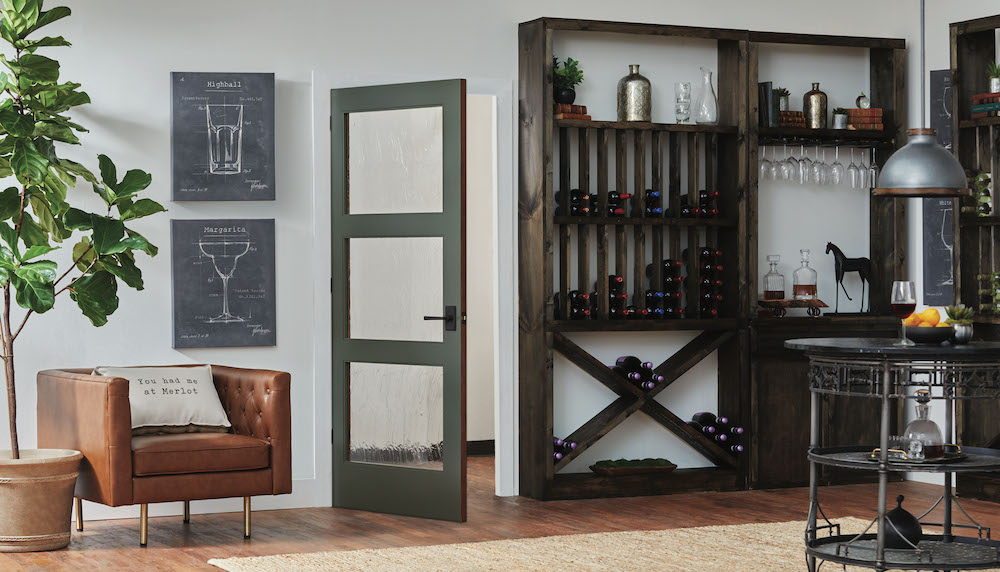 Modern style homes tend toward open floor plans and large glass windows, even floor-to-ceiling. Interior elements reflect smooth, clean lines and geometric shapes and patterns. A mostly neutral base palette is punctuated with bright, bold accent colors. Natural wood and metal show up as subtle accents.
Modernism evolved from multiple art and design movements and also influenced a host of variations, so modern style is somewhat of a spectrum — able to include and combine elements of minimalism, abstract impressionism, futurism, and more.
What is minimalist design?
Minimalist design originated from modern design, but it takes an even stronger "less is more" approach. Minimalism reduces elements to their simplest form in order to create stark, bright, and clean spaces that are visually calm. The focus is on bare essentials and open spaces. It's form over function.
Clutter doesn't exist; if an item does not serve a purpose or is in any way excessive, it won't be included in a room. There are no patterns, knickknacks, or excessive ornamentation to distract the eye. Instead, items reflect simplicity of shape and form.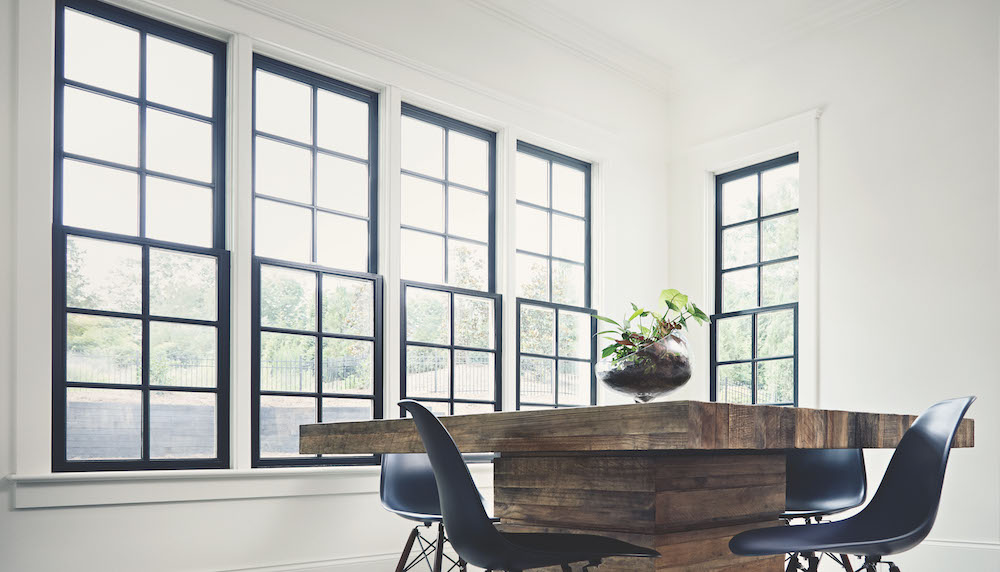 Modern and minimalist spaces share some similarities: open concept rooms, lots of natural light from large windows or glass doors, and simple, functional furniture. However, minimalist design is sleeker, with more straight lines. The color palette is fully neutral or monochromatic — no pops of color. Materials often look industrial in nature: concrete, metal, and light/faded wood.
Modern and minimalist interiors: Product recommendations
Here are some product ideas to get you started on your search:
Interior Doors
The clean, precise lines of JELD-WEN's MODA® interior doors give them a modern sensibility. There are designs here to suit both modern and minimalist spaces.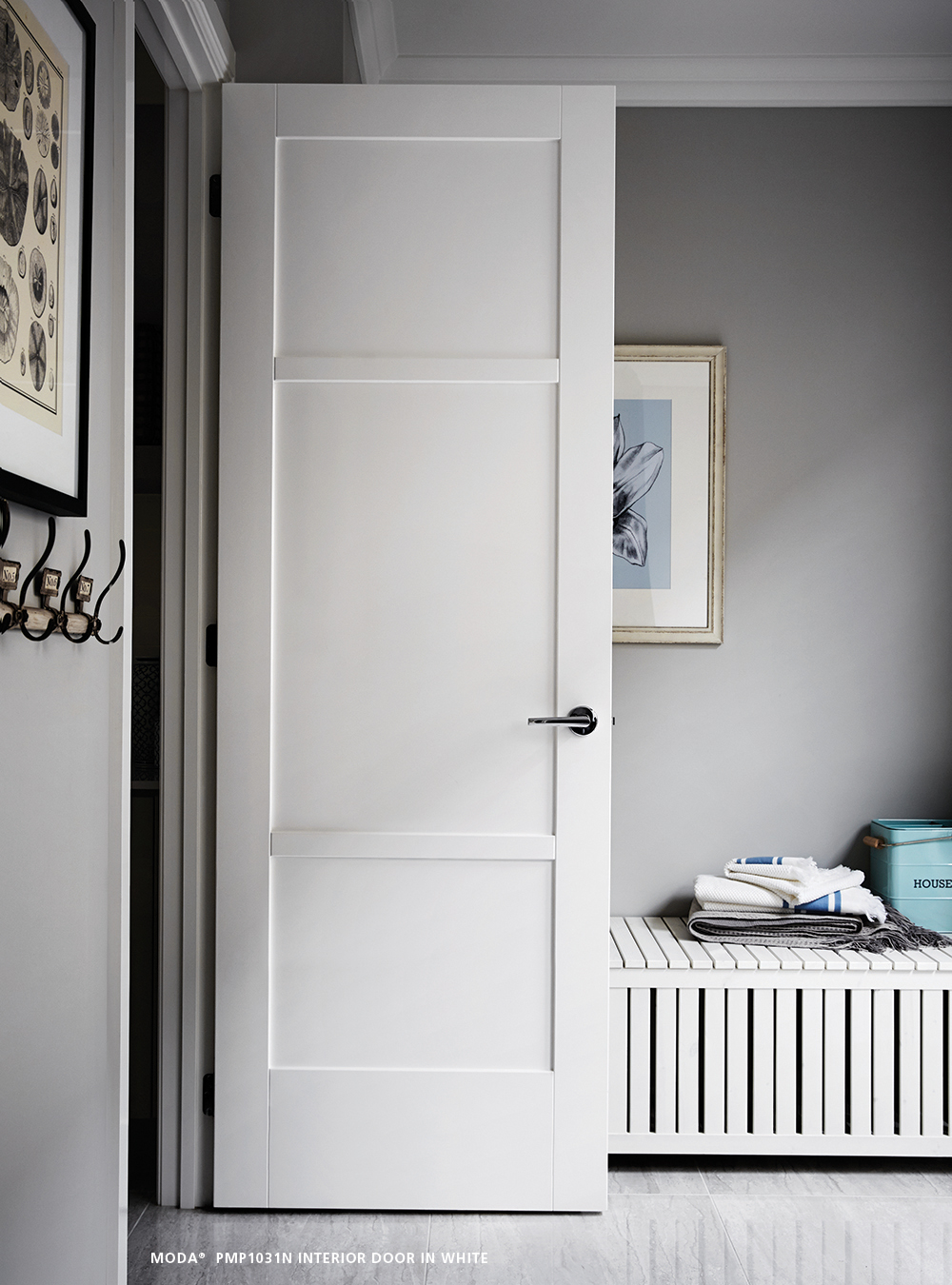 Best of all, each design is available with your choice of panels — primed, natural hardwood, clear glass, or translucent glass — so you can create a door that complements other design elements within your project space.
For budget-friendly interior doors with streamlined design, take a look at our Madison® Smooth and Birkdale™ Smooth flat panel molded doors. Both are available factory finished in a range of calming, neutral colors.
If you need a custom-made minimalist or modern interior door, we've got you covered. Our Karona™ stile & rail interior doors can be crafted to your specifications.
This exceptional line also includes a wide array of readily available door designs, wood species, stain finishes, glass options, and more.
Windows
JELD-WEN's EpicVue® clad-wood windows create the look of contemporary glass walls. Mix floor-to-ceiling fixed options with sleek casements and awnings for ventilation. Options include a broad palette of neutral exterior cladding and interior paint/stain colors as well as our exclusive AuraLast® pine, which is proven to resist rot, water damage, and termites. Find both modern and minimalist inspiration inside our EpicVue® brochure.
In addition, our Auraline® True Composite windows and patio doors deliver a clean, streamlined, contemporary look. Slimmer sightlines mean more visible glass, which works with both modern and minimalist interior design.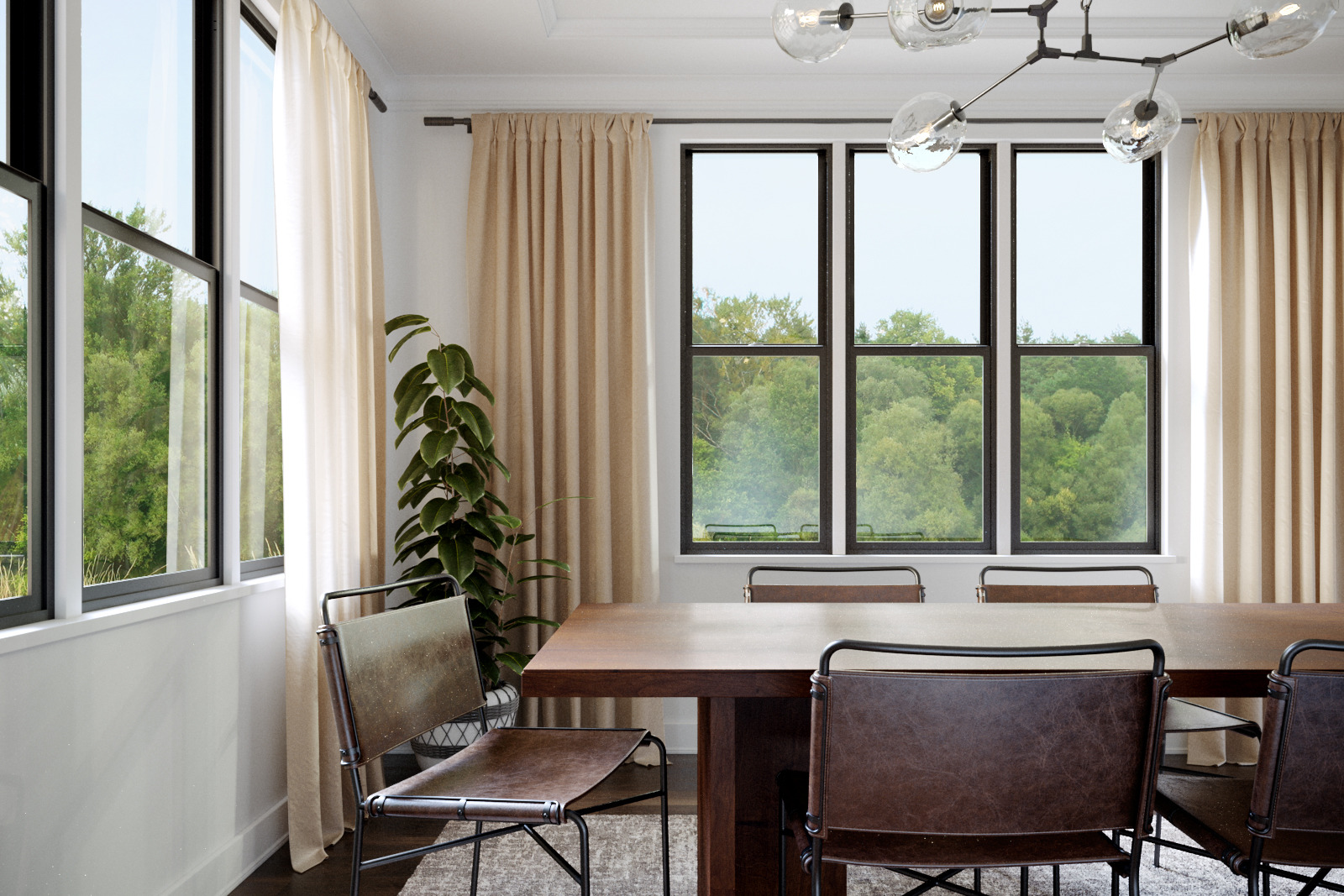 Patio Doors & Wall Systems
For impressive height and window wall effect, look to the Siteline® Low-Friction Glider®, with effortlessly gliding glass panels up to 7′ wide and 10′ tall.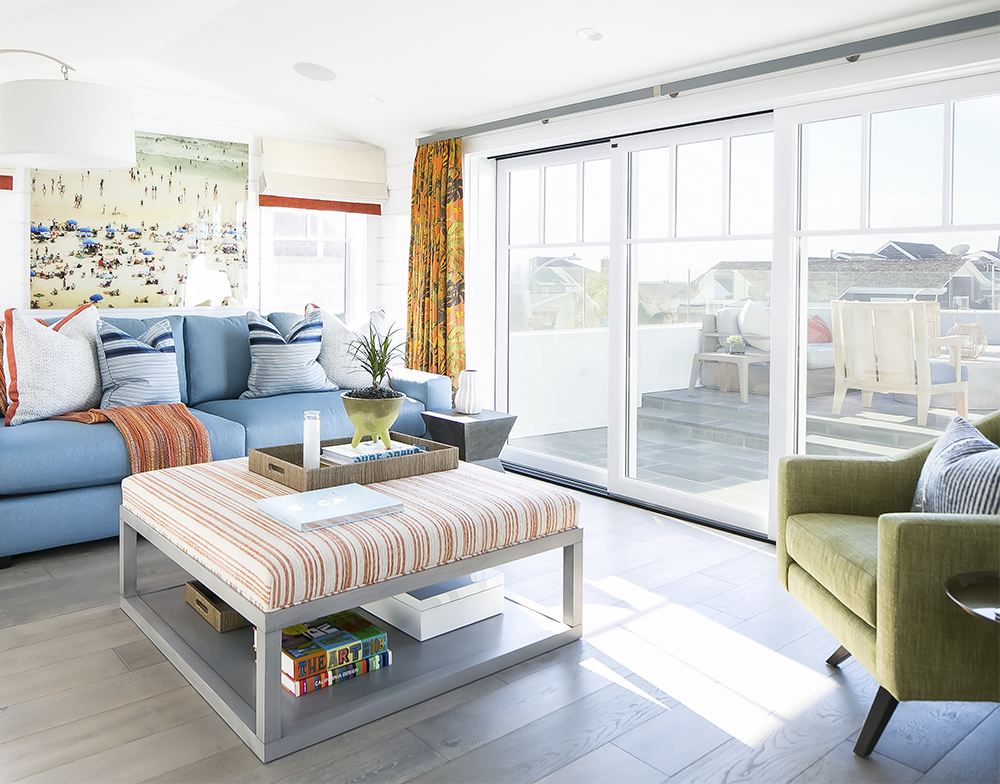 Siteline® Multi-Slide is a great choice when your clients want a glass wall that also pulls aside to create elegant open space between indoors and outdoors. Two systems may be combined to create an opening up to 57′ wide.
And, in case you're looking to create a modern or minimalist aesthetic inside and out, we'll recommend a few exterior door options as well:
Entry Doors
Our IWP® Aurora® fiberglass doors feature designs that complement modern homes, including full view glass doors, two-tone color creations, and wood-look styles with decorative metal inlays (keep scrolling to see more options).
JELD-WEN's Architectural™ Collection includes two standout modern fiberglass doors: Contemporary 605 and the very retro-looking Smooth Edge glass panel. For your clients who prefer the look of wood entry doors, there's also a full view glass panel design.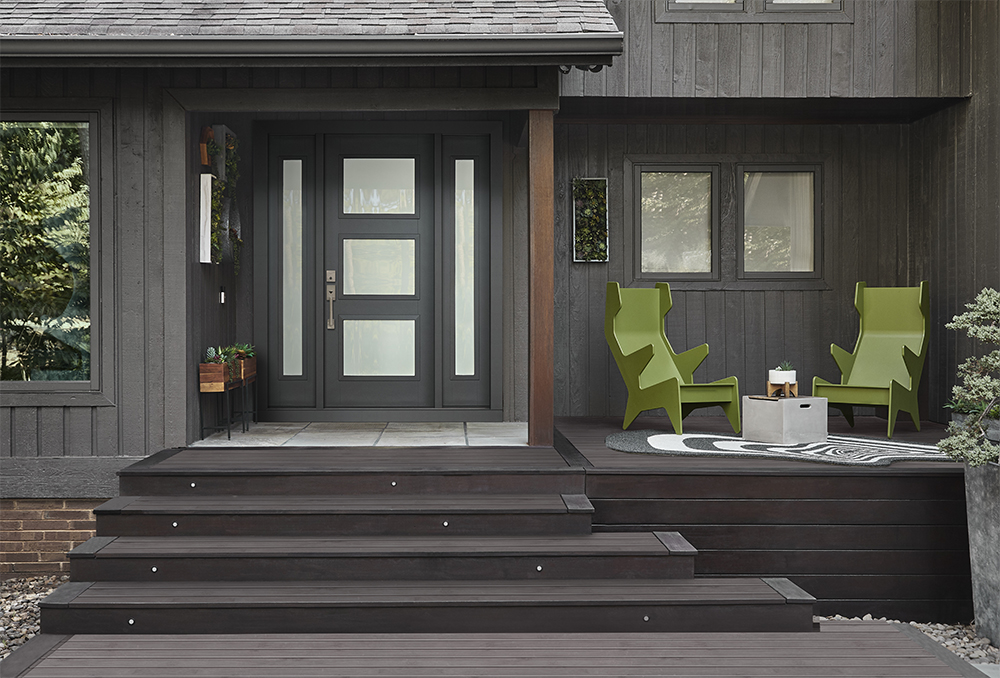 For clients who love a more industrial look — a minimalist hallmark — check out our IWP Aurora fiberglass exterior doors with Foundry™ finishes. These doors offer the look of real iron or steel, and none of the temperature changes that come with using real metal. Plus, with IWP Aurora's custom design capabilities, you can create the precise look and size of the door you need.
Find the nearest JELD-WEN dealer or retail location here.
Need help with an upcoming project? Get in touch with a JELD-WEN representative here.