New home fever heats up production
Amid the crushing boredom of lockdowns and desperation for a change of scenery, home buyers are hyper focused on their home's shortcomings and are eager to make moves.
Yet searching for the right post-pandemic home has never been more difficult. With extreme cleanliness, indoor comfort, and sustainability top-of-mind, homebuyers would rather buy new than renovate an existing home. The problem is that most homes on the market today simply aren't built to answer those next-normal needs.
This new-home fever is set to drive single-family production to near-historic highs not seen since the Great Recession. According to the National Association of Home Builders (NAHB), the number of buyers looking for newly built homes in Q4 2020 more than doubled the 19 percent share only a year earlier, setting the stage for an additional 5 percent rise in production in 2021 to 1.03 million homes.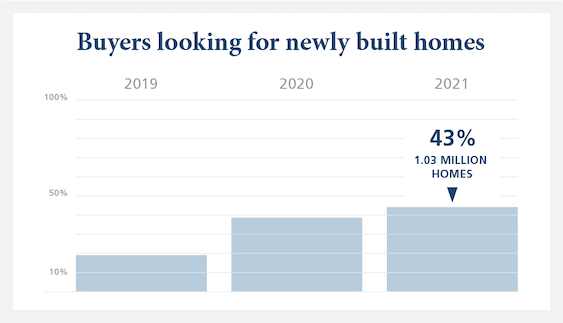 What home buyers really want
The pandemic affected what features, qualities, and opportunities matter most in a home. Looking at trends from the last year, three major takeaways for what buyers want in 2021 and beyond are:
More interior space
More-functional, comfortable living
Opportunity to generate rental income
More interior space
With work, play, school, and downtime all happening at home, it's not surprising that more space is a top priority. Per the NAHB, the median desired square footage is up nearly 8 percent to 2,200 from 1,877—and the average new home size is 2,487 square feet.
The extra space isn't just about the immediate family either. Tim Winter of Paradigm Building Group, a design/build firm in Fairfax, Virginia, says they're getting more requests for homes that accommodate multiple generations.
"A lot of clients are asking for a first-floor en suite bedroom for aging parents," says Winter. "I'm building a project that includes a basement rental with a kitchenette the clients will use as a suite for their parents in the future."
If it's not to accommodate aging parents and extended family now, it's to divide work, rest, and leisure spaces for added privacy. Desire for separation and focused productivity has increased demand for 4+ bedrooms and 3+ bedrooms by 46 percent and 33 percent, respectively.
Key takeaway: More space (and privacy) to accommodate work, rest, play, and extended family.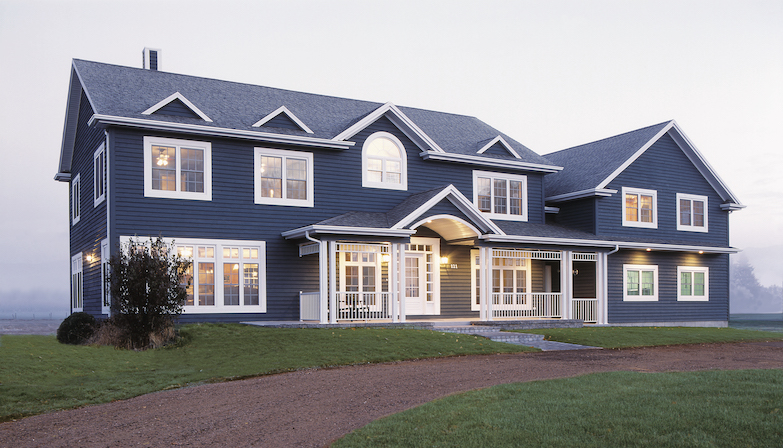 More functional, comfortable living
Comfort and function are defining themes for living well in the next housing phase. But homebuyers want more than added space and the freedom to close the door and work undisturbed, they want features that allow them to live smart and sustainably.
Energy efficiency, natural light, and indoor-outdoor connection were must-haves before the pandemic, and they're even more important now with our renewed perspective on wellness. Builders should use this insight as their guardrail for recommending products and features that maximize value.
For example, windows and doors will have to do more work than ever. Low-E glass is becoming an increasingly standard homebuyer ask, as it reduces heating and cooling costs by mitigating extreme temperatures felt indoors. And as patio doors get larger, light-touch and internet-connected operation are trending upward, as homebuyers want effortless access to their backyard sanctuaries.
On the inside, laundry rooms top homebuyers' most-wanted features according to the NAHB. Having a separate room to fold clothes and keep the mess out of the bedroom or living space is a huge benefit. And the case is similar for walk-in closets (another most-wanted feature). The ability to compartmentalize and pick out clothing in a well-lit and organized space is very appealing.
And these highly functional indoor spaces can also be stylish. The right interior door on a custom sliding track system such as the JELD-WEN DesignGlide will help save space and add privacy while staying true to the home's style.
To recap, the features that home buyers want most, according to the NAHB:
Laundry rooms
Walk-in closets
Patios and front porch
Low-E windows
Key takeaway: Comfort is king. And the right windows and doors can help you get there.
Opportunity for rental income
A bigger priority for buyers coming out of the pandemic is additional sources of income.
With domestic short-term rentals seeing a booking surge due to canceled vacations and now vaccine rollouts, buyers are looking for homes with the intent to rent it out in the future. According to online real estate marketplace Zillow, 27 percent say it's very or extremely important to rent out a portion of their home while living there, while 32 percent want the ability to rent out their whole home in the future.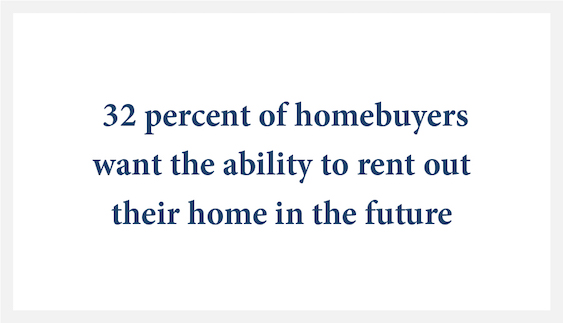 You can make yourself invaluable to your client's short-term rental success by advocating for premium guest amenities such as a jacuzzi, open recreation area, extra bedrooms for larger bookings, or a separate guest entrance on the side of the home to help maintain privacy.
And how you bring it all together stylistically will also impact how the home books—guests only need a few seconds on Airbnb listings to know if the home interests them or not. That's why you can also advocate for great curb appeal and help them bring it to life with the right windows and doors.
Tradition remains
This wouldn't be a comprehensive breakdown of what homebuyers want without mentioning where home style is headed. We found that eight out of nine regions in the National Association of Home Builders prefer to keep it traditional, with styles that honor the classic regional architecture.
That said, the other styles still have plenty of fans. Sleek and clean Contemporary is still the favorite on the West Coast, and the Farmhouse trend is still going strong all over the country. One style in particular that's getting a lot more love is Coastal, which is where many buyers want to feel like they live after being cooped up for so long.
Key takeaway: Traditional styles are a safe bet, but there's a market for popular styles in every region.
What this means for you
Home buyers feel enormous pressure to make a change. Now's the time to reach out, build connections, and help them reach their post-pandemic home goals by addressing these four key takeaways:
More space (and privacy) to accommodate work, rest, play, and extended family.
Comfort is king. And the right windows and doors can help you get there.
Design homes for future rental possibilities and/or separate entrances for private spaces.
Traditional styles are a safe bet, but there's a market for popular styles in every region.
For assistance with window and door specification or installation, visit JELD-WEN's professional portal.