Four factors for identifying green windows and doors
What does sustainability really mean? Ask ten homeowners—or builders—and you'll get different answers from everyone. Fortunately, when it comes to identifying windows and doors for a sustainable building project, there are some well-established criteria to consider and discuss.
1. Energy efficiency
Ever since the oil crisis of the 1970s, manufacturers like JELD-WEN have designed numerous innovations into their windows and doors to improve energy efficiency. This includes Low-E glass and its advanced counterparts, LoE3-366 and Low-E EC, all of which use invisible metallic coatings on the glass to reflect the sun's heat without affecting visibility. In addition, inert, nontoxic, and invisible gas (usually argon or krypton) captured between glass panes further insulates windows to help keep heat out or in, depending on the season.
The U.S. Environmental Protection Agency's (EPA's) ENERGY STAR program establishes common energy efficiency standards for a wide range of products. To become ENERGY STAR certified, windows and exterior doors are independently tested by the National Fenestration Rating Council (NFRC) to verify that they meet U-factor and applicable solar heat gain coefficient (SHGC) requirements for different climate zones. JELD-WEN Premium vinyl windows earned spots on ENERGY STAR's Most Efficient 2020 list in every window category.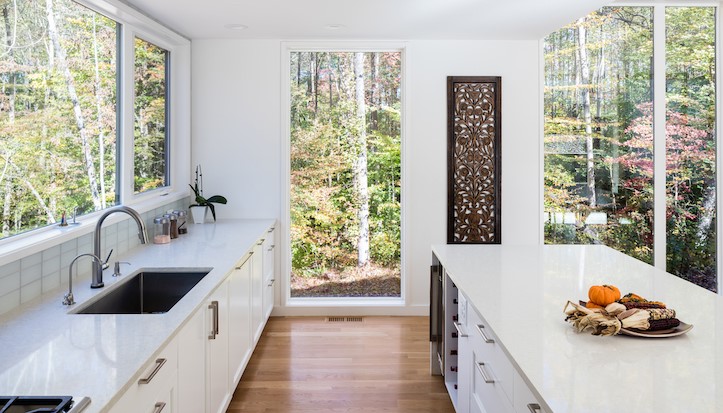 2. Environmental impact
The materials used to manufacture products and carbon footprint are also significant sustainability considerations. The Forest Stewardship Council (FSC) and Sustainable Forestry Initiative (SFI) are independent organizations that certify the sourcing, harvesting, transportation, processing, and distribution of wood products.
FSC or SFI certification helps manufacturers avoid using wood that was harvested illegally, in violation of traditional and civil rights, or from forests threatened by management activity. Plus, manufacturers—and customers—have the assurance that the wood used doesn't come from forests that contain genetically modified trees or are being converted to nonforest use.
Other sustainable products to look for are windows and doors created with materials that use sawmill byproducts and recycled content instead of virgin material. Also, manufacturers with multiple regional production facilities can shorten the distance doors and windows travel to get to customers, reducing greenhouse gases from transportation.
3. Health impacts
According to the EPA, exposure to formaldehyde can cause adverse health effects, including eye, nose, and throat irritation, other respiratory symptoms, and cancer. Seek out products labeled to comply with California Air Resources Board (CARB) stringent emission standards, the Toxic Substances Control Act (TSCA) Title VI, and/or certified to contain no added urea-formaldehyde (NAUF).
Off-gassing from products containing volatile organic compounds (VOCs) can also cause adverse health effects. To be considered sustainable, wood windows and doors should be manufactured using low-VOC processes. JELD-WEN products featuring AuraLast® wood are preserved with a process that releases 96 percent fewer VOCs than traditional solvent-based methods.
4. Quality
Often overlooked in the green discussion is the quality and durability of windows or doors and how long they will stand up to storms, weather, and daily use. Simply put, high-quality windows and doors that perform as required over a long time without needing to be replaced are, by definition, sustainable.
Whatever sustainability means to your homeowner clients, you can count on JELD-WEN for a broad selection of windows and doors that meet their sustainability criteria. Browse our curated style and product collections to get stylish inspiration for green homes.
For assistance with window and door specifications, certifications, or installation, visit JELD-WEN's professional portal.