Make a memorable statement with the door you choose for your home
Brought to you by JELD-WEN
Farmhouse style has come a long way since its start with Old MacDonald. Today, you're just as likely to find it expressed in an urban and suburban home as in the countryside. Over the years, the style has definitely evolved. New versions have been dreamt up, creating a spectrum spanning traditional farmhouse to more modern interpretations.
Despite the variety, there are a number of features that farmhouse-inspired designs do share in common. Start with the front door — it's how you set the tone for your home's design. There are several options that set farmhouses apart. Many people choose to incorporate an old favorite: the Dutch door.
The style has been an American staple since the 17th century. With its two independent sections, the Dutch door won fans as much for its novel look as its functionality. By opening just the top half, for example, homeowners enjoy greater natural light and fresh air to enter the house. It was and remains an effective way to connect to the outdoors while keeping children in and animals in or out. Other devotees point to its utility as a spot to park cooling pies or casseroles and the nice open sightline it offers through the home.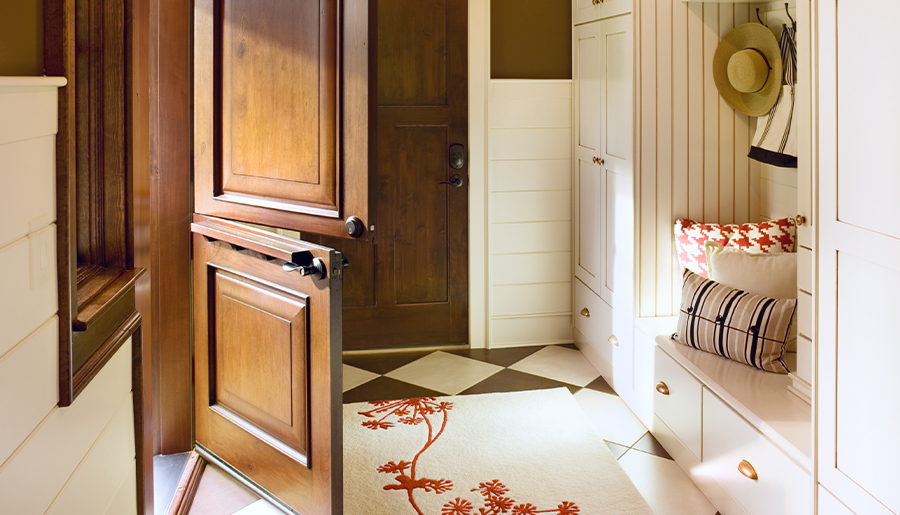 Also called a double-hung door, stable door, half door, or split door, the Dutch style makes a statement when chosen as your front door. It is a farmhouse standard, but is versatile as well. Incorporate glass in the top panel for a more modern Dutch door look. Or add cross rails in an "x" pattern to the bottom to really up the old-school authentic feel. Check out JELD-WEN's array of Dutch door options—find one that matches your vision.
But farmhouse front doors certainly aren't limited to the Dutch door. There are any number of other options that honor the style but let you make it your own. Double doors are another great way to go. They can be full lite, with glass from top to bottom, or you can opt for small insets of glass. Try using glass on the top with raised paneling to accent the bottom. An arched top is another eye-catching element that can add character and depth.
Your double entry doors also work well with a variety of different colorings. Everything from a mahogany finish to light wood to a fully painted set fits with the farmhouse style. If you go with a wood finish, make sure to match it to the color of your shutters. And if you really want to make a statement, consider painting the door a bold color like red or yellow that will really pop against the rest of the house.
Finally, farmhouses often incorporate sidelites on both sides of the front door. You could include a Colonial grille pattern on the center door, which is mimicked on the sidelites. Consider transoms above the door and the sidelites to create a striking, memorable look.
For assistance with window and door specifications or installation, visit JELD-WEN's professional portal.