Today's custom homebuyers want designs and amenities that serve all family members
Demographic trends should lead builders to rethink the way they design custom homes. Data from the U.S. Census Bureau projects the over-65 population growing from 47 million in 2015 to 71 million by 2030. In a 2016 Home Advisor survey, respondents over age 55 said they wanted to stay at home for as long as possible.
"We're getting more requests for homes that accommodate multiple generations," says Tim Winter of Paradigm Building Group, a design/build firm in Fairfax, Va. "A lot of clients are asking for a first-floor en-suite bedroom for aging parents." If the parents won't be moving in just yet, the room can be configured as a study or guest room.
If parents and their grown children prefer a bit more separation but the lot won't accommodate a first-floor elder suite, consider an elevator. Winter is getting more requests from them. "I'm building a project that includes a basement rental with a kitchenette the clients will use as a suite for their parents in the future," he says. It has an elevator leading to the first floor. Elevators increase project budgets, but are increasing in popularity with older family members who want privacy and independence.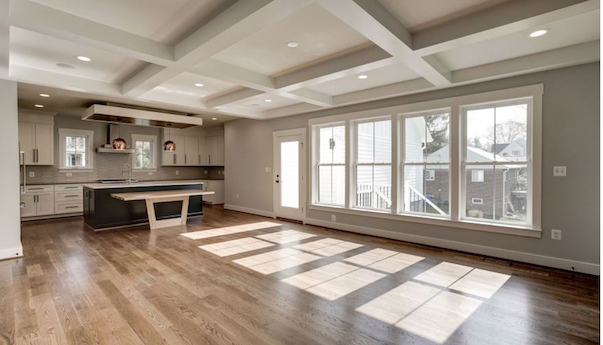 Regardless of layout, Winter's homes include lots of universal features that make life easier for the older relatives but that the rest of the family also appreciate. They include:
Zero-step walkways that flow naturally from the driveway to the front door, and look like an amenity rather than a ramp 
Large windows to admit ample light 
More overhead lighting 
Light-colored interiors that benefit people with deteriorating vision and make the space more cheerful overall 
Universal design features like these are best when they're subtle. For instance, Winter likes to install casement windows in large openings because they're easy for all family members to open. The best models have grilles that mimic double-hungs and come in designs that range from Craftsman to modern. 
He advises multigenerational builders to pay close attention to aesthetics. "These homes absolutely must be well designed," he says. When making a bathroom wheelchair accessible, for instance, you can hide the accessibility features with high-quality finishes and fixtures. Winter ensures this by partnering with architects that specialize in multigenerational design.
He also points out that aesthetics will play a role during a resale: "The homeowners will want to re-sell at some point, so we don't want to the home to feel sterile." That won't be a problem if, like Winter, you make a priority of designing and building home that feels like home for everyone.
For design inspiration and window and door products that help builders create multigenerational homes, visit our gallery.