Be honest: How long has it been since you've changed up your interior door offering? Yes, six-panel Colonial style doors painted white will always be a safe choice. But what if you offered your clients something more. Like interior doors with artisan details that elevate the vibe of the room. Or doors so dramatic and surprising, they'll draw a "wow" from anyone seeing them for the first time.
Why install a standard interior door when you can make a statement?
It helps to have a brand of interior doors you can trust, one known as much for high quality and lasting performance as it is for great design and stunning finishes. So, in case you haven't met before, let us introduce you to Karona™ interior doors.
Spice Up a Spec Home
Karona™ doors, crafted from wood and featuring robust stile & rail construction, are available in designs that embody traditional elegance, contemporary sophistication, and every style mood in between.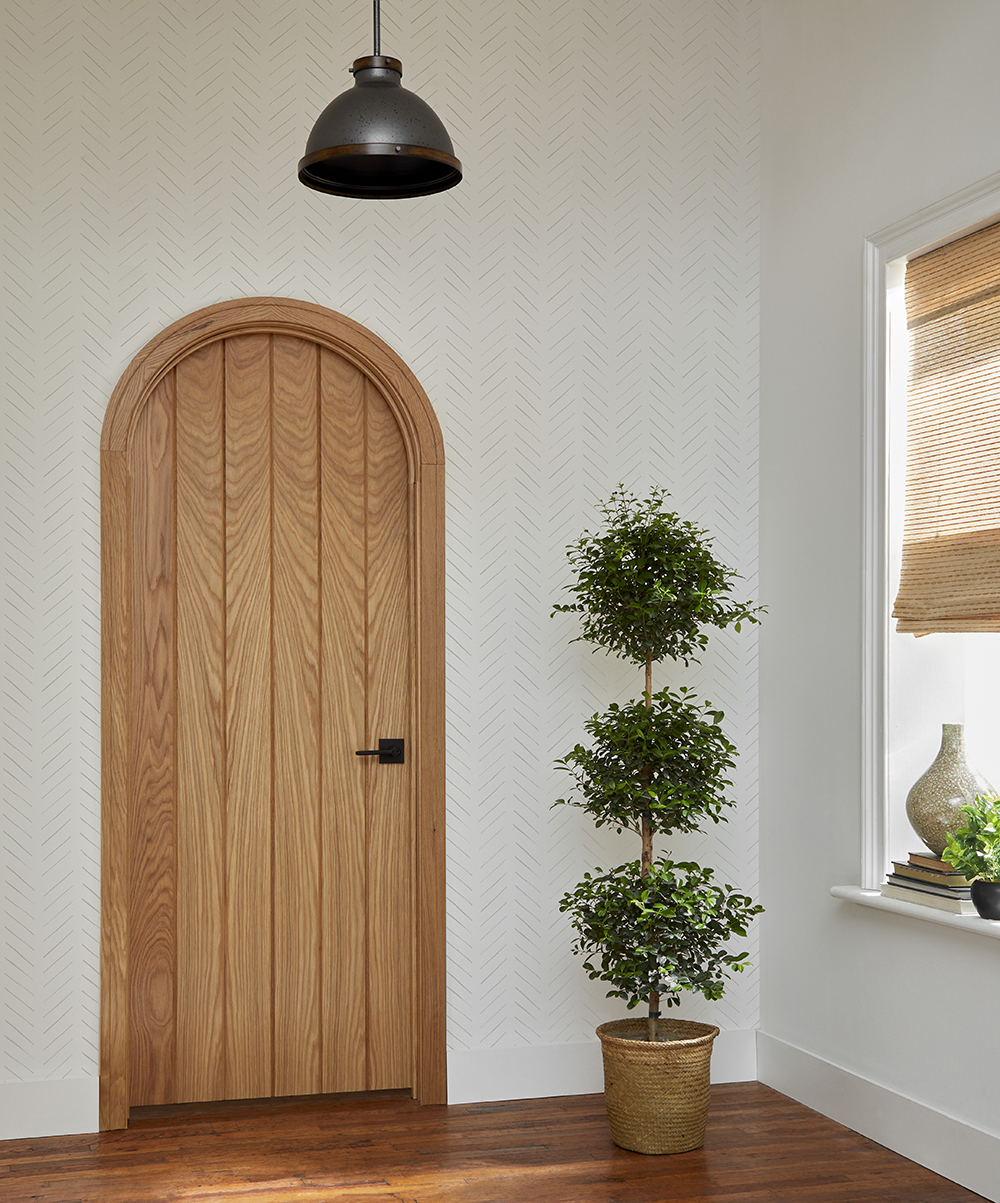 Add sliding barn door hardware, and you can create a doorway that not only gets the home's interior design style right but also offers a sense of ease and engagement. Barn doors with translucent glass can be stunning solutions for closing off home offices or kitchen pantries.
Double barn doors that slide open from the middle of the doorway are a unique way to access family rooms and other larger living areas.
Consider playing with shape, too. Karona radius top interior doors like this Modern Farmhouse example (in rift white oak with V-groove paneling) go above and beyond the passageway doors found in most homes. Showcasing architectural details turns a doorway into an object of interest.
Impress Your Custom Build Clients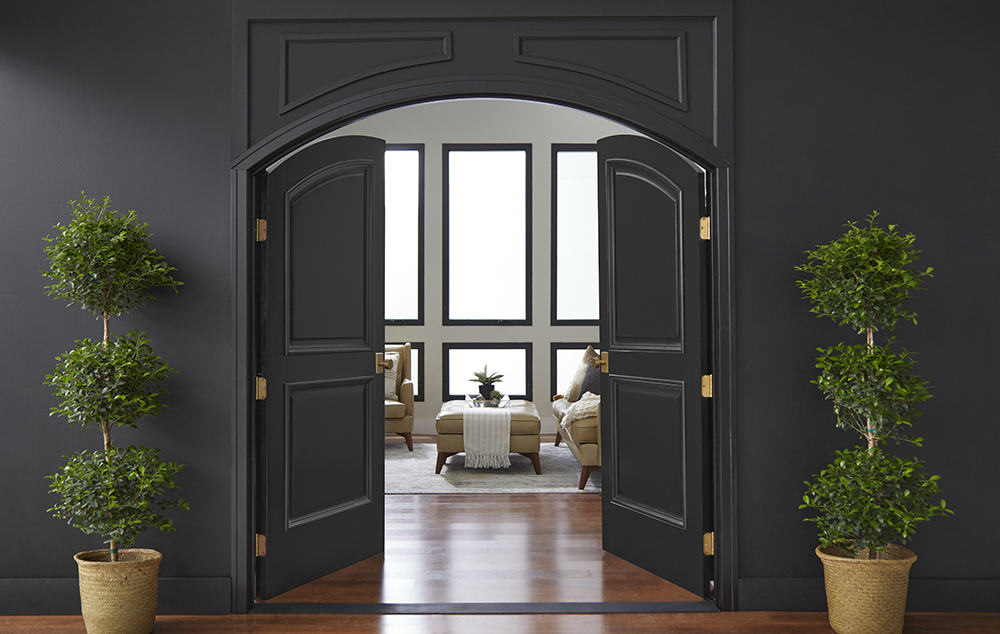 This is how you make an entrance. Arched double doors like these, with complementary trim above and a deeply hued, smooth surface across both door and wall, add new heights of elegance (and more than a little drama) to a traditional living space. Closed, the doors work with the walls to maintain visual calm. Open, they give the sense of being quietly ushered into a private sanctuary.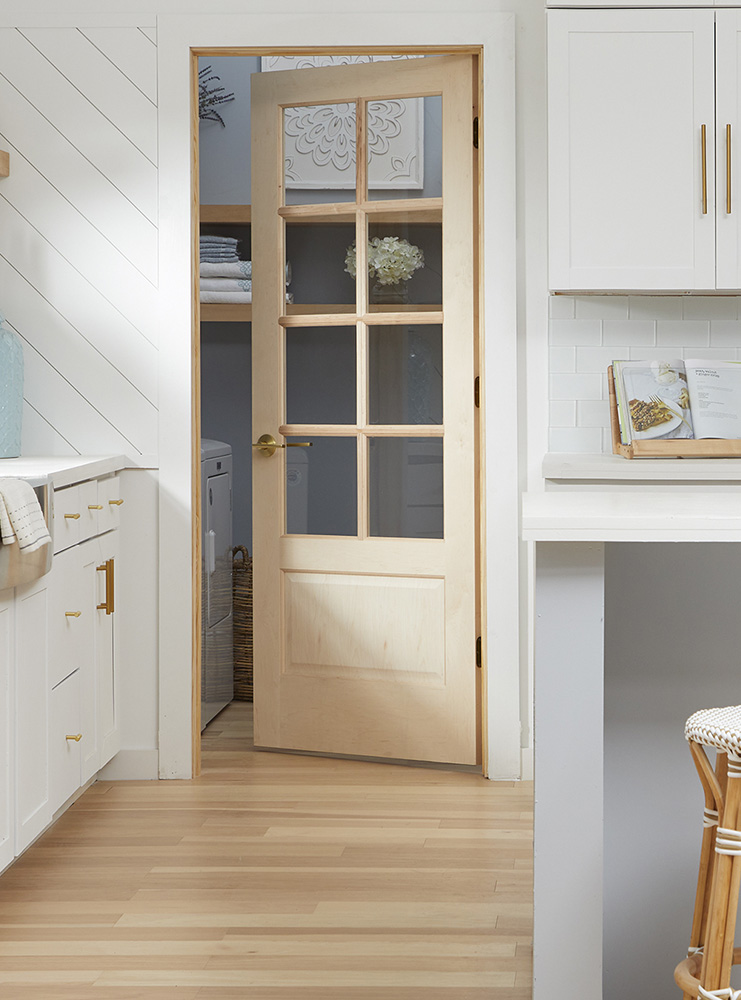 Exceptional doors don't have to command all the attention, of course. Well-crafted and beautifully detailed interior doors like this v-groove paneled example are inspired choices for elevating high-traffic spaces, simple, subtle passageways, and even utilitarian spaces.
Karona™ wood stile & rail doors include many designs that incorporate glass, with a choice of clear or decorative glass to achieve the look and privacy level the homeowner wants. From a style perspective, these doors cover a wide range of preferences, from traditional, clear glass, multi-lite panel doors in natural wood to sleek, textured glass, full-lite painted doors. Regardless of style, though, glass interior doors bring a definitive sense of luxury to busy spaces, such as pantries, bathrooms, laundry rooms, and mudrooms.
Details Matter, and So Does Choice
Creating statement interior doors and incorporating them into your builds is much easier when you start with a collection of excellent door designs and add plentiful detail options such as colors and finishes, sticking, hardware, glass, and more. Karona™ interior doors give you tremendous flexibility to create statement doors within its standard collection. And when you need solutions that call for more, Karona's extensive customization capabilities — from new door design to custom color to specialty glass — will be there to turn your creative visions into gorgeously crafted statement stile & rail doors.
Want more ideas? Explore our interior doors project gallery.
Find the nearest JELD-WEN dealer or retail location here.