Every client deserves a functional and beautiful residence – from the exterior design to interior hardware, each decision makes an impact on the result. After you've solidified the layout and overall style of the home, it's time to switch gears to thinking about the right functional additions that will elevate the design.
Windows and doors make a large impact on aesthetics and the homeowners' every day lives. For example, energy efficient windows can help create a comfortable environment year-round while simulated divided lites can enhance a traditional or farmhouse style design. But one of the most impactful decisions lies with the client's exterior and interior door choices.
Coordinating exterior and interior doors beautifully tie together the exterior design of the property and the home's interior, creating one cohesive design that's mindfully crafted. Here are a few ways to raise the bar with coordinating interior and exterior doors.
Choose coordinating styles and colors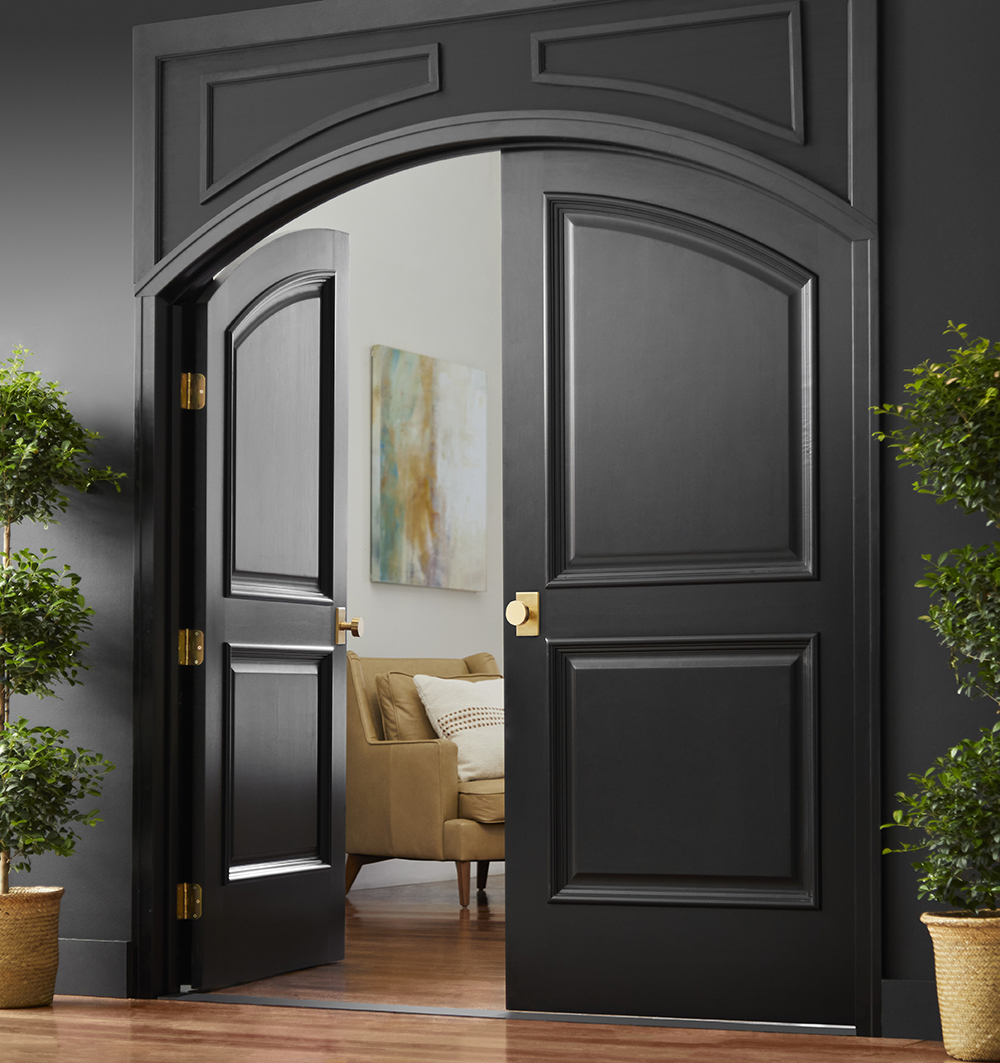 Interior and exterior doors can feature solid panels, glass inserts, sleek hardware, ornate details, arch tops, and more. The best first step is to nail down the exterior door design and use different elements as inspiration when choosing the interior doors. If a client wants a grand entrance that improves curb appeal and stands out from their surrounding neighborhood, choose an Architectural™ Collection Arch Top Door with matching sidelites.
When bringing the same style inside, it's important to take a close look at little details. If there are raised panels on exterior doors, choose interior doors that exhibit those same design elements and finish it in a complementary color. It's also key to match door hardware colors for a consistent aesthetic. To really drive home the coordinating door styles, choose the same door shape used in the entryway for the master bedroom doors.
For example, choose an arch top double door from our Karona™ product collection and arched panel Authentic Wood Interior doors throughout the home. This type of attention to detail will go a long way with even the most discerning clientele.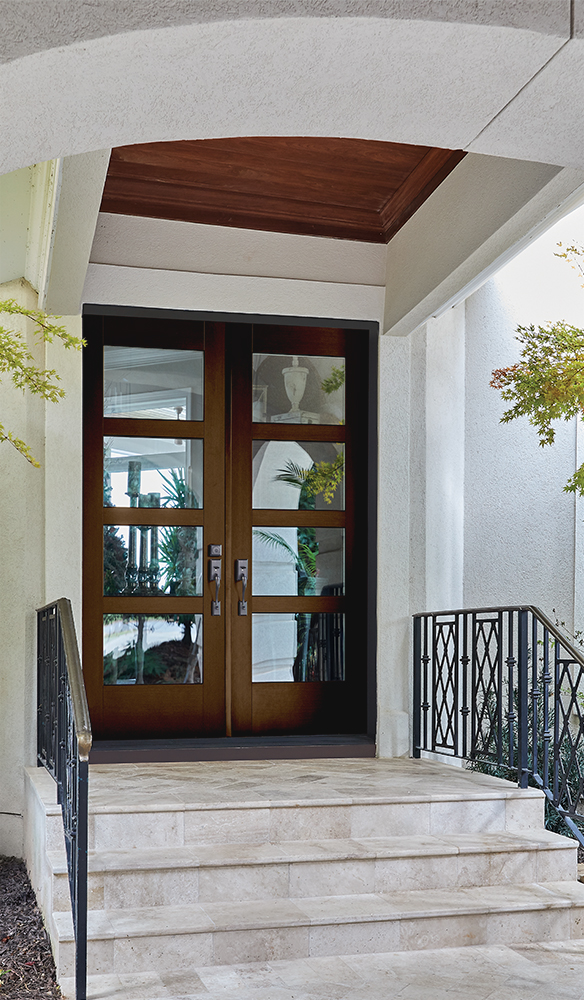 Mix and match wood and glass options
It's essential to keep a client's day to day life or routine in mind when designing a home. If they want a light, bright space, recommend an exterior door with ample glass, such as a DesignPro™ 4-lite wide SDL double door. This exterior door style can be replicated in various rooms throughout the home by using a 4-lite MODA® interior door with translucent glass for improved privacy.
For areas that need full privacy, recommend a solid panel door that's finished in the same color as the entryway door and has matching hardware. Looking at the doors within a project as one cohesive unit helps add an element of sophistication to your designs.
Recommend coordinating or complimentary colors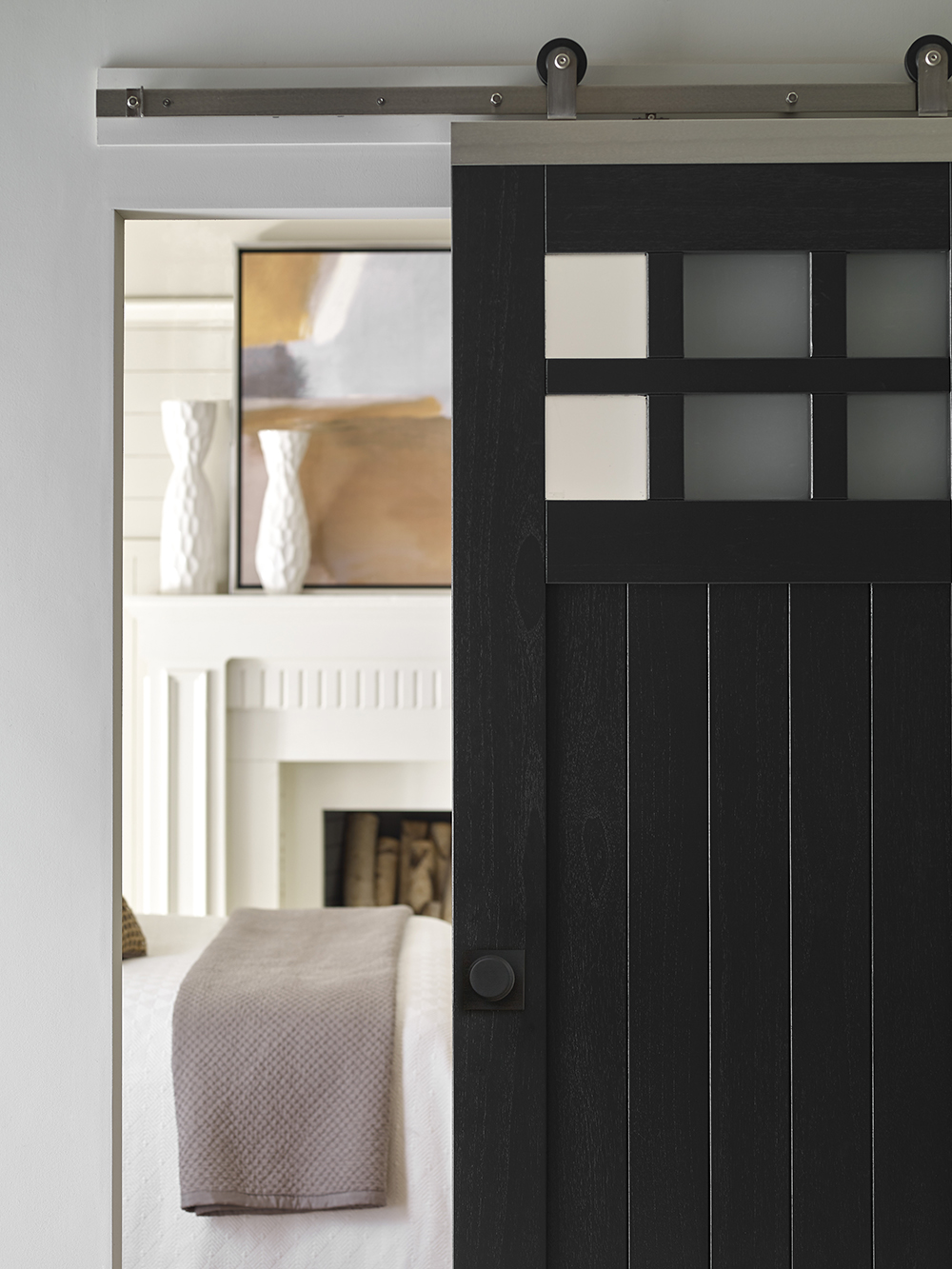 If a home features a statement front door with a pop of color, it may not be ideal to have each interior door finished in the same color. However, choosing colors from the same family or complementary colors creates a cohesive look throughout the home without overdoing it. When it comes to colors, gaining clarity on the homeowners' unique style is crucial. For example, pair complementary colors like a bold black entry door with on-trend natural green or shade of gray.
If they're designing a farmhouse style home, a black front door might be the way to go but black interior doors should be broken up with glass inserts to avoid becoming overpowering against the surrounding interior décor.
You can also recommend knotty woodgrain style interior doors with black hardware to complement the entryway without using too much black. This approach shows clients you're thinking about the bigger picture but also being realistic about how you apply their design preferences throughout the home into the physical architecture of the property.
Take your business to the next level with JELD-WEN
At JELD-WEN, we design products for the whole home. By leveraging our style collections, look books, and other resources, you can create cohesive projects that are bound to impress. Coordinating interior and exterior doors is just one way you can impress your clients while infusing the property design with their unique style. Browse all interior and exterior door options today to get started.