Country artist and actor JT Hodges and his wife Kasey, lived in a beautiful home with their family in Tennessee. Unfortunately, in January 2021, the couple experienced an unexpected tragedy. An electrical fire started to rage and engulfed their family home. After the fire department put out the blaze, the Hodges were safe, but their home was unlivable. The bones of the property were still in good shape, however, the entire inside needed to be rebuilt.
The Hodges family turned to TV personality and interior designer Christina Hall to assist with redesigning a house they could safely call home again. With a lot of work ahead and many design decisions to make, the couple got started rebuilding their home. They turned to a trusted friend and founder of Red Oak Building Company LLC, Josh Berry, to bring their vision to life.
Redesigning their new home with JELD-WEN
After the fire, the Hodges knew they had to start from scratch. An important aspect of the overall design and material choice was centered around the idea that "we're hard on homes," said Kasey. Owning a large piece of property with plenty of land for farm animals and growing children, choosing design materials that were durable yet beautiful was critical.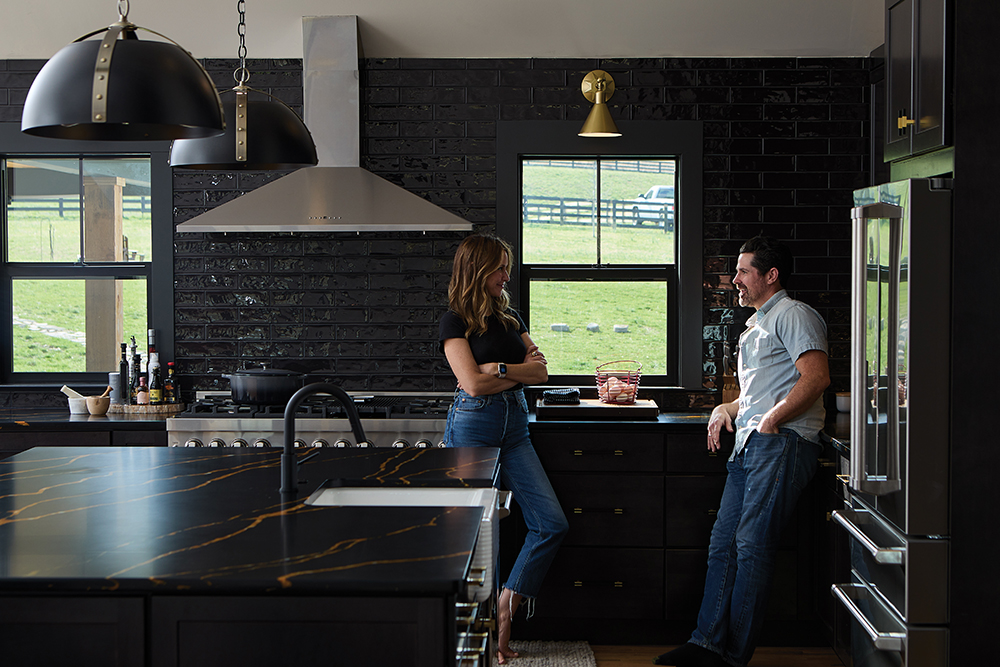 The Hodges family wanted a house that could truly be lived in without sacrificing the aesthetics or views of the scenic rolling hills and quintessential Tennessee countryside. That's when they started looking to JELD-WEN for windows and doors. Knowing that the windows and doors throughout a home were touched almost every single day, they wanted to use materials that they knew were going to last.
"What was great about JELD-WEN was the options, the options based off our non-conventional design for the home," commented JT. The Hodges home redesign incorporates a little bit of farmhouse with some modern elements and timeless touches to create a truly unique residence that evokes both of their senses of style.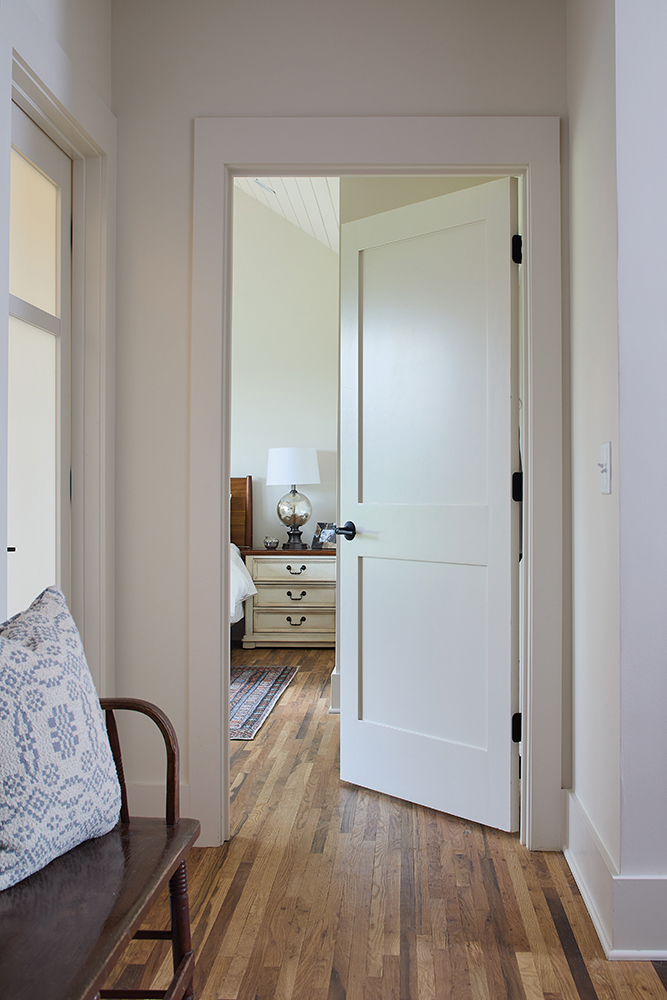 The modern exterior of the home and eclectic interior design were blended together in a cohesive way with Auraline® True Composite single-hung windows in black. The couple chose a Smooth-Pro™ Fiberglass 3/4 lite front door and Shaker style interior doors throughout the residence – ensuring consistency and cohesion between interior and exterior designs. Each Shaker style interior door was finished with black hardware, adding an element of sophistication that complemented the Auraline® True Composite windows used throughout the residence.
This completely rebuilt family home is filled with beauty and ready to be lived in. Explore the Hodges family home rebuild in more detail, check out season 1 finale episode "Undoing the Damage" on Christina in the Country.
To learn more about the JELD-WEN windows and doors used in this project, check out our website.