While the current economy has slowed some homebuying and new construction, remodeling is still going strong.
Some homeowners will opt to improve their existing home instead of buying a new one. Others are rethinking their spaces as they now work remotely or go out less. "The more we stay home, the more we notice things we don't love or want to function better," says Lindsay Tinnell, product marketing manager at JELD-WEN. "Many homeowners are looking to remodel or make smaller, cost-effective changes."
---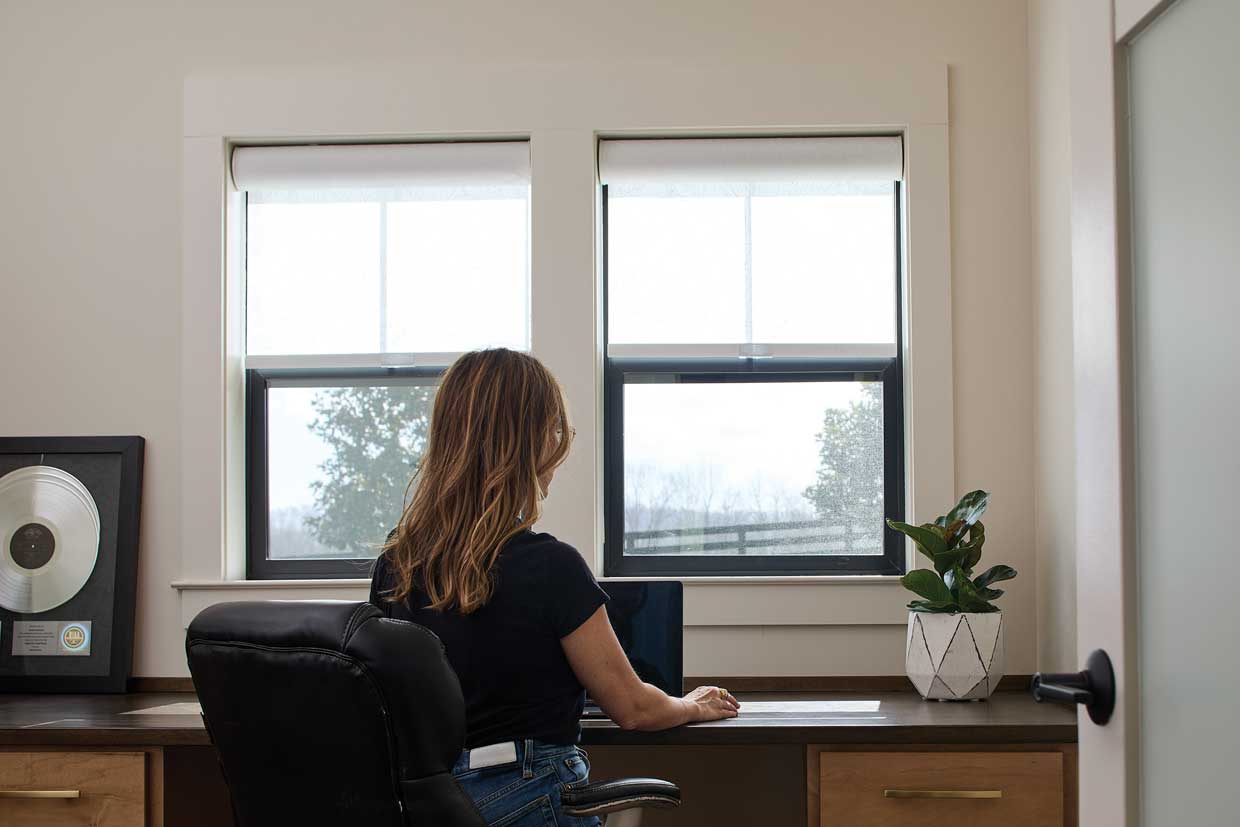 "The more we stay home, the more we notice things we don't love or want to function better."

— Lindsay Tinnell, product marketing manager
---
Whether homeowners are looking for a whole-home remodel or a single-room upgrade, in many instances interior doors need to be replaced. In the past, interior doors from the original build would generally get replaced only when they stopped functioning properly or were damaged beyond repair. Today's homeowners, however, are finding other compelling reasons to update their doors.
Style
Because most doors are original to the home, the designs can be outdated. Homes built in the '90s or 2000s usually feature six- or four-panel Colonial-style designs. "Twenty-plus years ago, there weren't as many options out there," Tinnell says. "Molded doors are the absolute builder standard, and they're in everybody's houses."
Thanks to Pinterest, Instagram, and YouTube, people are starting to think differently about interior design. Access to inspiration is opening their eyes to how homes can be tailored to their specific tastes. "Replacing doors can make a huge difference in how customized a home feels," Tinnell says. "There are tons of options, and it's more affordable than they might think."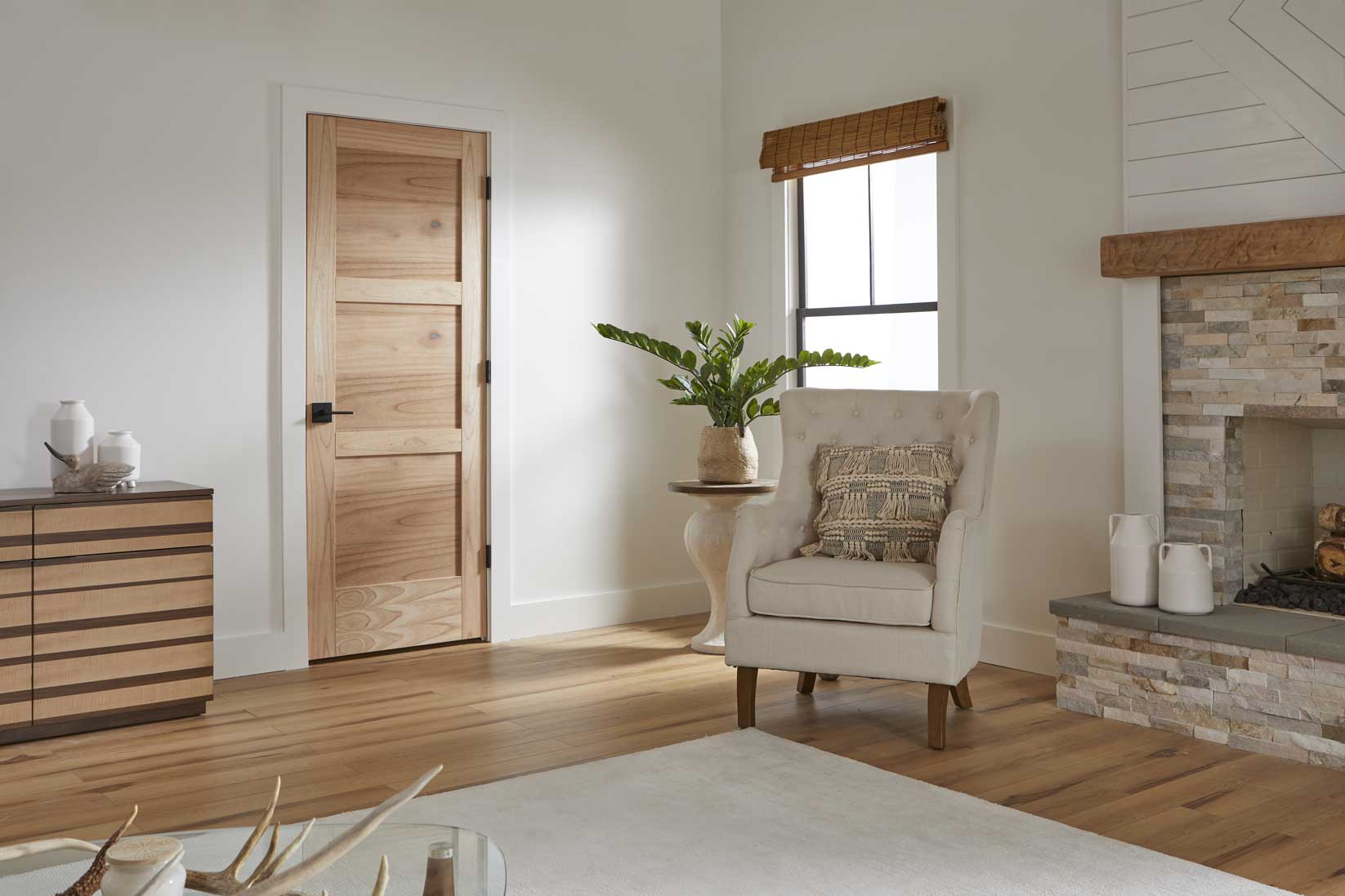 Tinnell is seeing homeowners gravitate toward several interior design and door trends:
Blended home styles: "We're seeing a lot of the 'modern mountain home,' which combines minimalism with rustic touches, like stonework or knotty wood."
Softer styles: "The black-and-white farmhouse trend is softening into more creams and shades of brown. While matte black is still the primary hardware choice, we're seeing more antique bronze chosen to provide a softer look."
Lighter wood tones: "Rift white oak and maple are really popular, often in a French door design like a maple-and-glass pantry door, or a solid-panel oak door in a Shaker style."
Minimalist style: Simple one- and two-panel doors with flat panels remain very popular.
Statement doors: Instead of every door in the house matching, the primary bathroom, pantry, and laundry room might feature different doors. Something that coordinates but doesn't match exactly can look beautiful and cohesive.
Function
The way we use homes, and the amount of time we spend in them, has changed drastically for many people. Homeowners are assessing how well their home works for them.
An interior door change can enhance functionality in several ways:
Rooms with a view: "People who get into organizing from watching The Home Edit might want a glass pantry door that shows off their beautiful storage. Or maybe they want more light coming into a home office," Tinnell says.
Space savers: Homeowners could choose to install a barn, pocket, or folding door instead of a swinging door in a tight space.
Peace and quiet: Solid core doors are a great way to create quieter spaces. Most modern interior doors are hollow. Molded hollow-core doors are long-lasting, high-performing, lightweight, and affordable, but may not dampen sound as efficiently. For someone who works from home, has a baby or a dog, or wants a bit more privacy, there are solutions:

ProCore®, JELD-WEN's unique solid core option that muffles sound, is available for any molded or flush door design, enabling homeowners to match solid-core benefits to the hollow-core design they use elsewhere in the home.
Solid-core stile and rail doors: Made of a solid engineered wood slab that resists warp and is less susceptible to chipping or scratching, these dense doors help reduce sound transfer for better acoustic control.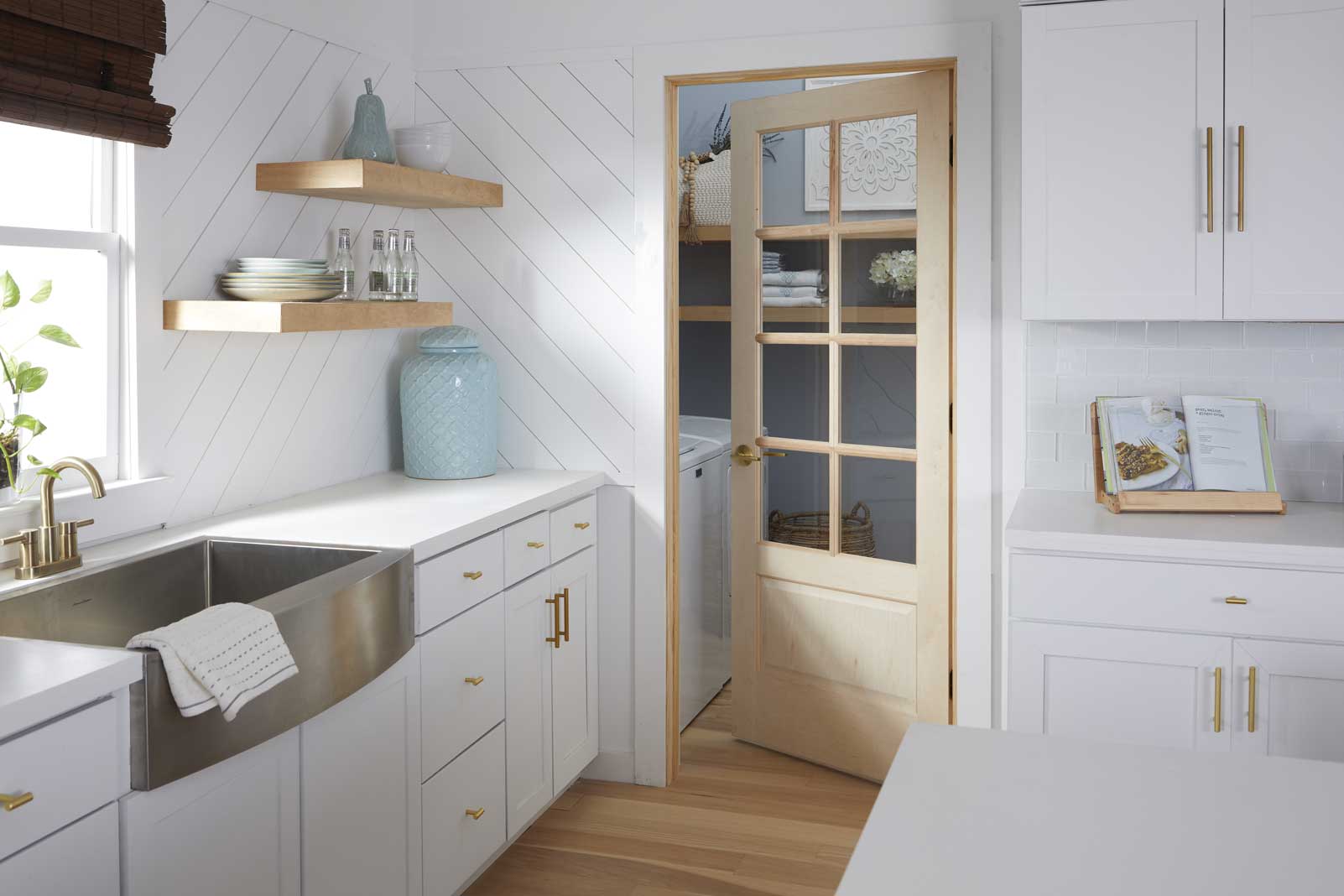 Whether your remodel projects call for classic interior doors or trending-now statement doors, JELD-WEN is here to help, with one of the most comprehensive selections of interior doors in the U.S. JELD-WEN interior doors include the industry's widest range of molded door designs and a large stile and rail door selection, with real wood, glass, and Shaker-style construction options. "Plus, our luxury brands make complete customization possible," Tinnell says. "You could come to us with a sketch on the back of a napkin and we can create that door for you."
With competitive lead times and pricing, and warranty-backed quality, JELD-WEN interior doors are a great choice for your remodel and build projects, from a basic single-door replacement to a fully customized dream home. Explore our vast selection of interior doors.