Extreme weather events are a growing issue that's only going to get worse, and it's not just coastal regions that feel the impact: A 2022 study found 90% of all U.S. counties have, in the past decade, experienced a weather disaster severe enough to be eligible for federal aid. That means creating homes able to withstand natural and man-made disasters is more important than ever.
The first consideration during an extreme weather event is homeowners' immediate survival. Next is a home's long-term resilience. With storms increasing in intensity and frequency, homes need to be able to withstand ongoing wind, rain, and temperature fluctuations. A truly resilient home not only emerges intact from the storm but is also less prone to moisture-related damage.
The Role of Exterior Doors
Many decisions go into building a home that will stand up to whatever nature throws at it. Exterior entry and patio doors are only one of many areas that need to be considered, but in many ways, they're the first line of defense. If not specifically designed to survive, doors can expose the whole house to serious damage. Wind can enter and cause increased pressure that may lift the roof and push out the walls.
Even without hurricanes, long-term cycles of intense temperature fluctuations and windblown rain can take a toll on a home or building. Wind-driven rain is a significant issue throughout the country. Water resistance is critical to any home's resilience; otherwise, rain or other moisture can lead to rot.
Doors That Offer Protection
Windborne debris is mainly a problem in Florida and the Gulf states. JELD-WEN® coastal door systems protect homes from weather-related damage. Our Steel, Smooth-Pro™ fiberglass, Design-Pro™ fiberglass, IWP® Aurora® fiberglass and Architectural™ Collection fiberglass door collections include impact-rated options, which are engineered and tested to stand up to the strong impacts of windborne debris, as well as the harsh conditions inherent to coastal areas.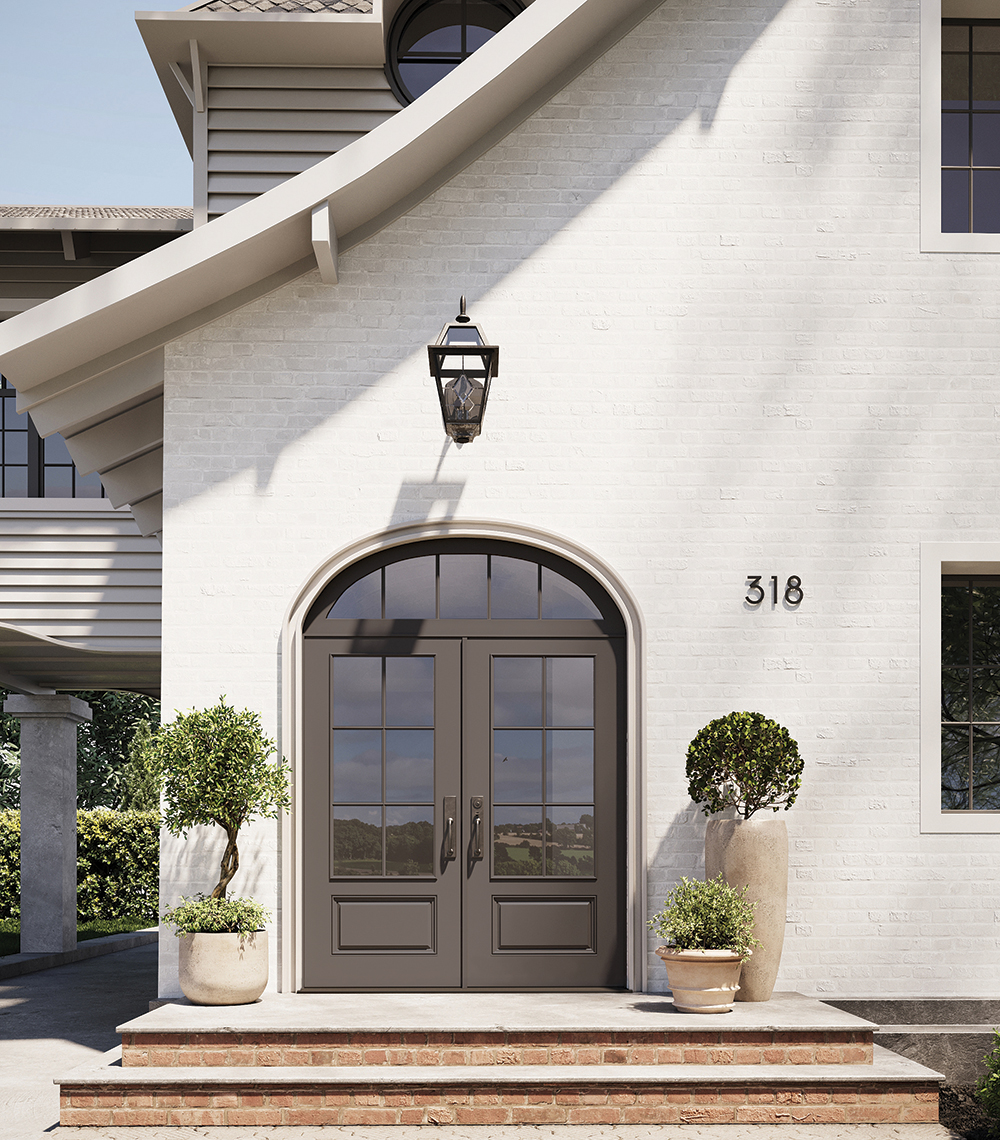 The glass used in our impact-rated door systems is certified for use in various entry systems to meet Florida and Texas code requirements. Doors with impact-resistant glass can withstand a 9-pound piece of lumber striking the glass head on at approximately 34 miles per hour. Multiple door designs feature impact-resistant laminated glass options.
In addition to the protection available with our entry doors, many JELD-WEN patio doors fitted with impact glass offer high resistance to air infiltration that meets the code requirements for high-velocity hurricane zones (HVHZ).
In most of North America, water resistance is the most relevant storm protection needed. "If you build in an area that gets a lot of rain or snow, like the Northeast, you want to make sure your doors can stand up to it," says Christina Wolff, product marketing manager for JELD-WEN exterior doors. "In the Northeast, you should consider using fiberglass doors."
Door Components Matter
Besides the door itself, the materials used to manufacture the door frame must be carefully considered. "The components that surround a fiberglass door are also important," Wolff notes. "These components should be made of rot-resistant materials. That will make a difference in geographic areas that have a lot of rain, snow, or moisture."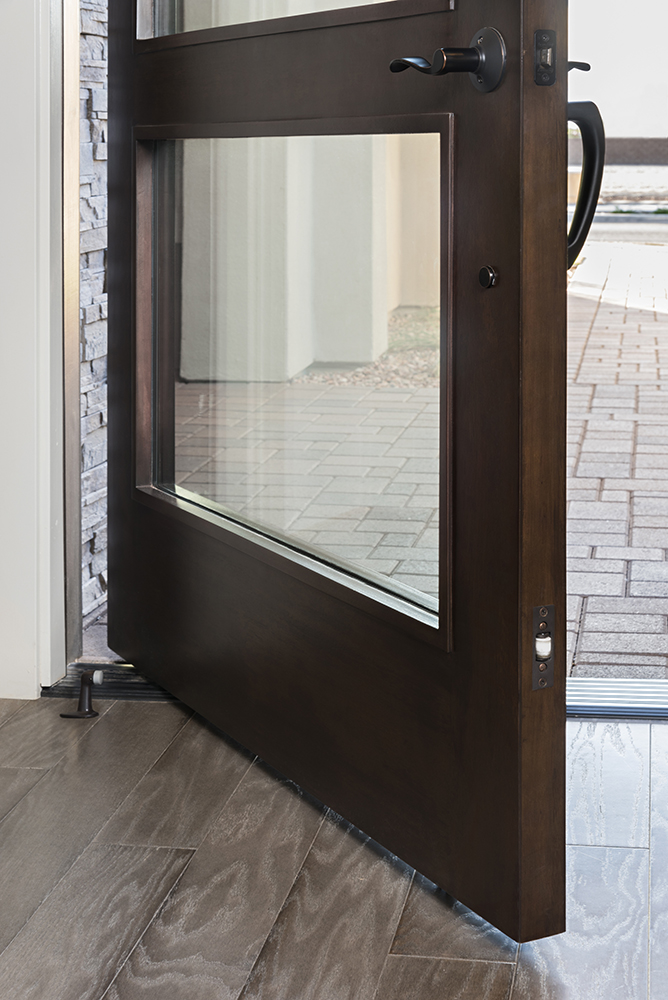 For example, JELD-WEN wood windows, patio doors, and door frames with AuraLast® pine provide protection against wood rot, water damage, and termites. AuraLast is a patented wood product made using a water-based process that fortifies wood all the way to the core, providing an exclusive level of protection you'll only find through JELD-WEN.
An alternative material option for the frame is composite. "If the door will be exposed to moisture or weather, you should consider door jambs made of rot-resistant material," Wolff says. Composite bottom or full composite jamb options will help the door system you install resist warping and sagging over time.
"An adjustable door sill can also really benefit your homeowner clients," Wolff says. "If they get a gap in the bottom of the door from the structure sagging over time, first of all, it's bad for energy loss, but also it can expose the bottom of the door to water, which could potentially cause rot, depending on the material of the sill. If you use an adjustable sill on the door, you can make sure the entry stays energy efficient and resists exposure from the elements." For instance, a composite bottom adjustable sill has a solid foam PVC base that provides thermal resistance and is rot-, water-, and termite-resistant.
A truly resilient home or building will serve the owners and enhance your reputation in any weather environment. JELD-WEN is dedicated to making doors that perform reliably in any climate and offers door systems that stand the test of time, even when exposed to salt air, coastal moisture, severe winds, and dangerous windborne debris.
Sources:
Grist, "9 in 10 US counties have experienced a climate disaster in the last decade, report finds."
Insurance Journal, "FEMA Pushing for Stronger Building Codes Nationwide."
Find the nearest JELD-WEN dealer or retail location here.