The look of wood in residential design is timeless. From furniture and floors to doors and windows, natural wood is consistently a popular choice. So why is it also considered an emerging trend?
With countless ways to finish wood with ever-evolving stains and style techniques, it's easy to understand the revival in interest. "I've seen evolution in how visible the knots are, whether people want detailed or minimal wood grain," Tinnell says. "Stain coloring is another area where you'll see trends come and go, though some classic time-tested stains will always be in demand." Current wood finish trends are all about bringing the feel of the outdoors inside. Here are three growing trends for incorporating the beauty of nature into home design:
1. Light and Warm Organic Tones Are In
Across the board, lighter finishes are all in high demand. Warm, rustic finishes are also gaining popularity, according to Holland McGraw, JELD-WEN's product marketing manager for windows. Although white oak is becoming increasingly popular, various stains can be applied to other wood species, delivering the light and warm tone homeowners are looking for — and even with materials other than wood.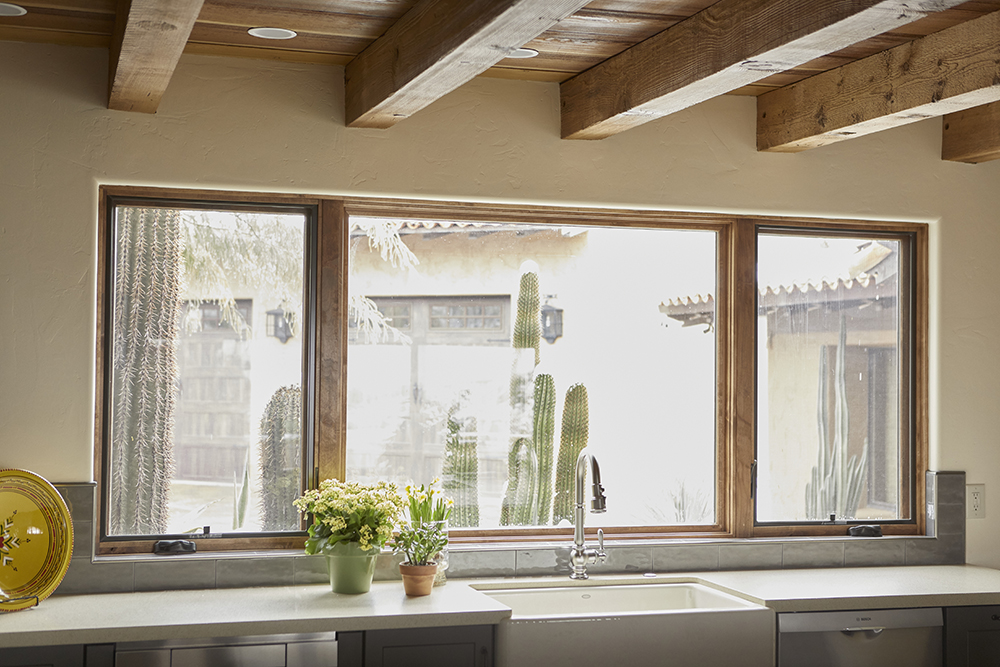 For example, AuraLast® pine window frames are a real wood option that can be stained to the tone of other species. JELD-WEN composite interior doors can also be stained to resemble many real wood species while requiring less maintenance. And for entry doors, fiberglass can be engineered to mimic the grain of any of dozens of wood materials and stained to the homeowner's preferred style.
"We work closely with our stain partner, Sherwin-Williams, to pinpoint trends, and they say designers are moving toward organic, natural-looking finishes," McGraw says. In response to this emerging trend, JELD-WEN launched two new stains for exterior doors: Warm Toffee, which gives doors the look of white oak, and Earl Gray, which provides a brown-gray finish. JELD-WEN products can be factory-finished in the homeowners' stain of choice, or homeowners could complete it onsite as a DIY project or with the help of a professional.
Regardless of trending colors and species, regional preferences endure. "Up north, you'll still see darker, more traditional stain colors," says Christina Wolff, product marketing manager for exterior doors at JELD-WEN. "Out west, you'll see more elaborate graining patterns and different wood species, like our new IWP® Aurora® Fiberglass Rustic Cedar Species. And in California, beachy light wood tones are always on point."
According to Tinnell, homeowners are influenced by their natural surroundings: "It's about whether you live near mountains or forests and what native trees and wood species are local. That's why at JELD-WEN, we've tried to make choosing species easier with our style collections."
2. Designing for More Daylight
"Previous wood trends felt heavier, with more full-panel products," Tinnell says. "Now we're seeing a lot of intermixing of wood with glass."
Interior doors with glass panes can enhance light flow from room to room and are becoming more common choices for home offices, pantries, and laundry rooms, as well as for closing off the dining room while maintaining its connection to the rest of the home. In windows, entry doors, and patio doors, larger glass inserts have been trending for a while; homeowners crave natural light and better views of the outdoors. Natural wood tones are a harmonious frame for the landscape outside.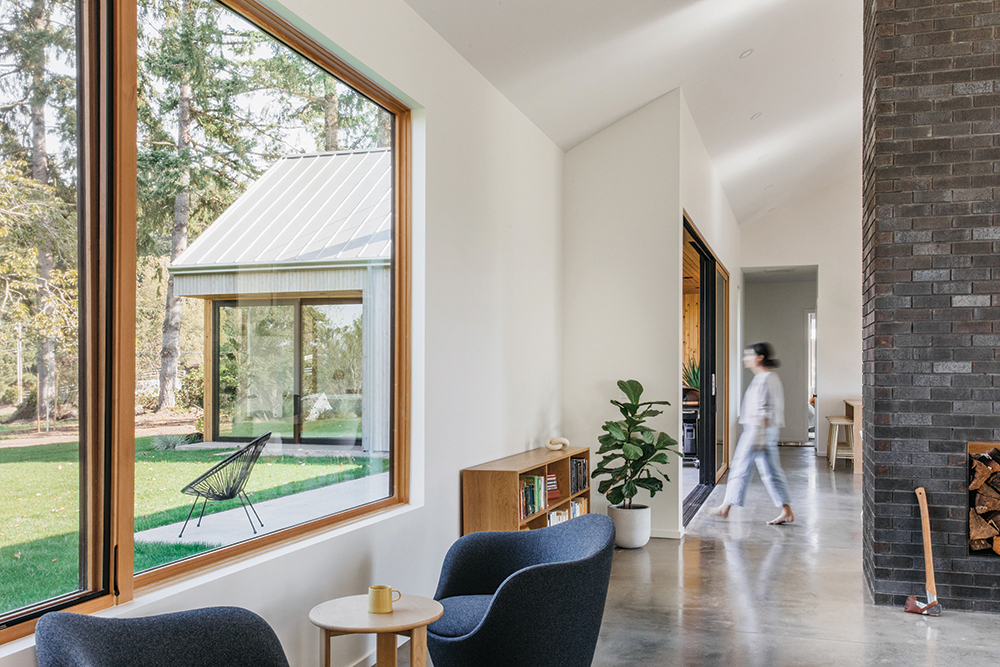 3. Adding the Warmth of Wood
Another trend the product managers see evolving is increasing the use of wood and warm tones throughout the home — in contrast to the black, white, and gray trends of recent years. There's an emphasis on applying natural finishes to cabinets, doors, trim, and more, which is a stark departure from the traditional farmhouse aesthetic. With designs that use a lot of wood, the current trends of warm, light tones and bigger glass panels can keep the overall appearance from getting too heavy or dark.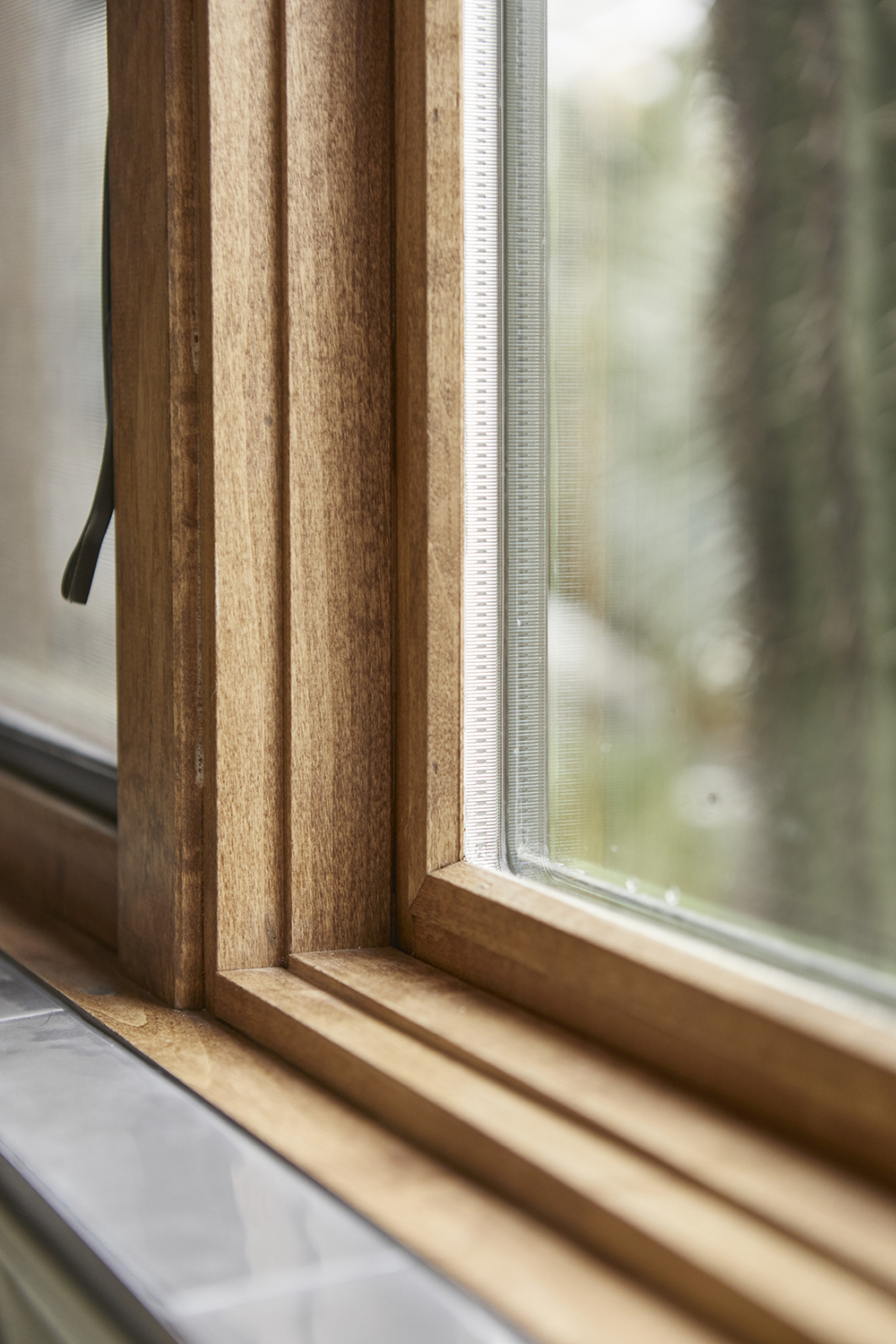 With natural finishes front and center, it's important to think about how different elements go together to achieve a cohesive look. Wolff recommends that rather than make every finish identical, "try to mix and match stains and coordinate paint colors."
Although the appearance of wood is key to this trend, sometimes the material itself isn't ideal for an application. For exterior doors, especially in regions that experience harsh or damp weather conditions, fiberglass has long been an appealing alternative because it can mimic the appearance of wood — sometimes to the point where it's indistinguishable from the real thing — but won't warp, rot, shrink, or swell.
Find the Right On Trend Wood Door at JELD-WEN
Help homeowners embrace these current design trends by exploring the wide range of window and door style and stain options available from JELD-WEN.