Achieving the beauty and simplicity of expansive glass windows starts with proper installation.
The clean lines and simplicity of broad swaths of glass are so architecturally on trend right now. But these large glass windows and doors depend on careful installation. We explore that important topic in this post.
The remodeling business is a competitive one. Winning the work often means finding new ways to distinguish yourself from your rivals. One effective strategy is to show off your value and service leadership. Not only does it help you stand out, but it can also be an effective means for dodging low-margin projects and the limitations of being seen as a commodity service.

The truth is your business is unique. The key is identifying where your skills, products, or approach diverge from others and then spotlighting those distinctions. Make a list. Those differentiators could be your project experience, special training, service focus, project creativity, warranty, industry partners, or easy financing. If you want potential clients to see you as the best choice, you have to start by identifying what makes you different.

The same need to differentiate applies to just about every player across the industry. Building product manufacturers are a good example. What really distinguishes one wood window maker from another? To answer that question, let's take a quick trip to America's rainiest location — Hilo, Hawaii.
JELD-WEN takes on termites
Hilo sees more than 13 feet of rain a year. That steady supply of water creates the area's stunningly lush and beautiful rain forests, attracting scores of visitors. But those same forests are also home to massive colonies of Formosan subterranean termites. While devastating to wood, they can be helpful to wood window manufacturers. Combine the heavy rain, the teeming termites, and the salty ocean air, and you have an ideal spot to test wood window performance.
"One of the wood window tests we did was in Hilo, Hawaii, located on the Big Island," explains Jennifer Matson, director, Wood Window Products for JELD-WEN, a leading global building products manufacturer based in Charlotte, North Carolina. "We built a pair of little structures resembling children's playhouses. We outfitted one mini house with a standard wood window purchased at the local lumberyard and the other one with a window made from our AuraLast® pine."
Both structures were placed on top of active termite colonies and remained outdoors for 18 months. A typical Hawaiian Formosan termite colony numbers more than 2 million insects, with large colonies topping 10 million. It is "by far the most economically damaging pest in Hawaii," according to University of Hawaii entomologists
AuraLast® Wood uses a different approach
JELD-WEN researchers used the demanding environment to test the company's AuraLast® Wood product, which is treated differently than other window woods. Rather than being dipped into a vat of harmful chemicals, as is typically done, wood in the AuraLast® process undergoes a surface-to-core treatment through a proprietary vacuum/pressure process. It is an environmentally safe, water-based application that fortifies the wood to the core. As a result, any window penetration, from sanding to nailing, does not expose untreated wood.
Windows that weathered the worst
"The wood structures were reduced to spongy shards in a few months," reports Matson. "The termites went through shingles, concrete, everything to get to the wood. Nothing stopped them — except AuraLast® wood. All the AuraLast® windows needed was a wipe-down and paint. Otherwise, they were fine. No rotting, water swelling, or termite damage of any kind."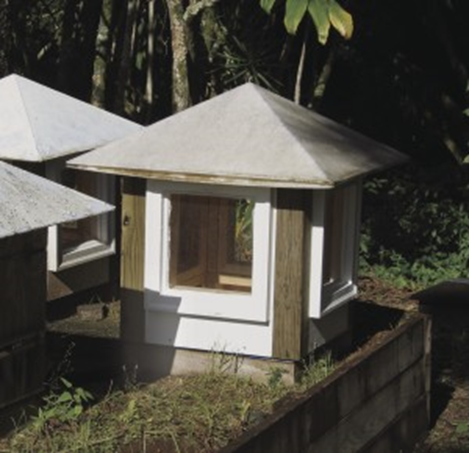 This generic wood window looks fine before it is discovered by Hilo's termites.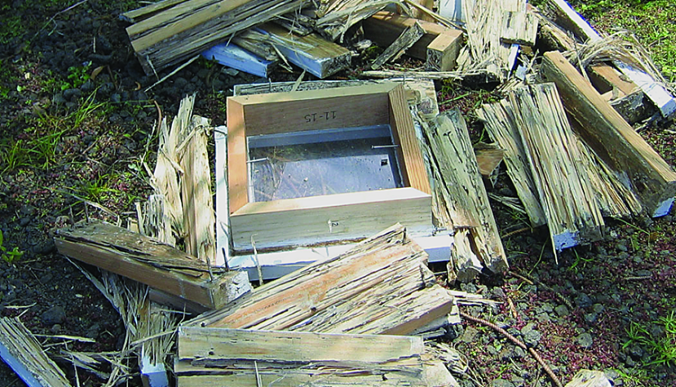 This is the same window after the termites. Note the still-undamaged AuraLast pine.  
Matson says AuraLast® pine windows, patio doors, and door frames have been available for over 10 years, representing "millions of windows in the market." For residential architects, home builders, remodelers, and owners looking to confidently specify a wood window that stands up to termites and moisture like no other, remember the results in Hilo, Hawaii. To learn more, check out JELD-WEN AuraLast® pine.