JELD-WEN is shining the spotlight on builders in 2019. Our second featured builder is Scott Moran, owner of Hallmark Homes, which builds custom homes in Bismarck, North Dakota. In this Q&A, Scott discusses the fulfillment he receives from building and giving back and why he chooses JELD-WEN products for his custom homes and customers.
Why did you decide to become a builder?
My grandfather, from Jamestown, North Dakota, was a home builder for many years. When I was a young kid in the '70s, I would go with him to work and was fascinated by what the builders did. They did everything from start to finish back in those days. They built the cabinets. They built the trim. You didn't have a subcontractor like we do today. It was amazing to watch him create something from the ground up.
My wife, Vicki, and I were living in Spokane, Washington, but saw an opportunity. In 2001, we decided to move back to North Dakota and start a homebuilding business: Hallmark Homes. We opened in 2002, hoping to create a reputable homebuilding company with a goal of bringing new ideas to the area instead of just cookie cutter homes. So today we build custom homes ranging from $500,000 up to $3 million.
How do you work with your customers?
We try to understand what the client wants to accomplish when they're building the home, and we want the clients to enjoy the building process. It takes six to seven months to build a home; it could be a year if it's a bigger house. They need to be involved and enjoy it, because it's going to be a long process. Vicki and I guide the customer through the entire process. We take them from concept to building to the finished home. I'm the builder, and Vicki designs the interiors. She helps them pick out windows, doors and cabinets and such. We try to make a one-stop shopping experience for the customers, so everything is right here at our showroom.
We also stay in touch after the sale. If they're calling because they have a door that needs to be adjusted, we respond right away. That is so important! Whether we're buying a car or a house, we all want that follow-up to make sure that someone is standing behind the product they sold us. And that's what JELD-WEN does. They stand behind their windows and doors. A couple of times we had little issues with a door, and they sent us a brand-new door. That's important to all of us.
Is that why you use JELD-WEN windows and doors?
JELD-WEN's reputation is definitely one reason, but their variety and quality are also factors, especially in our climate. Having good windows and doors is so important. We literally go from 60 below in winter to 100 degrees in summer, and we need a product that's going to stand up to those extremes. We also have a dominant northwest wind that frequently blows 60 miles an hour.
JELD-WEN's doors are phenomenal for sealing up tight. Same thing with the windows. We need them to seal up nice. We don't want frost. We don't want leaks. We need the argon gas between them. With JELD-WEN windows and doors, we don't get callbacks from customers with issues. When the homeowner moves in, we want them to feel trouble free and just enjoy the home and not have to worry about any problems.
What other issues do you face as a home builder in North Dakota?
Like many parts of the country, we have trouble finding trained, skilled labor. Young people are not coming into the industry. I'm not sure they understand what a good career they can have. We work hard to treat our contractors well and do whatever we can do for them to make sure it's a good work environment. I think that trickles down — if you're a happy employee and you're doing a good job, you stay at it. We're lucky that many of our subcontractors have been with us for years and we have a great working relationship. I have one subcontractor who's been with me for 18 years. Our son joined us about a year and a half ago, and that has also been important to us.
Is there a home that you're particularly proud of?
I think the biggest project we ever did was a large house where we put a basketball court underneath an eight-car garage. Their kids were in college and they wanted to have their own basketball court under the house. Right outside the house was a full-size swimming pool. And then we ended up putting in a large home theater that could seat 18 people. So, that house was quite the project. It was a lot of work, but the homeowners were really fun to work with and it was just a great project overall.
How does Hallmark Homes give back to the community?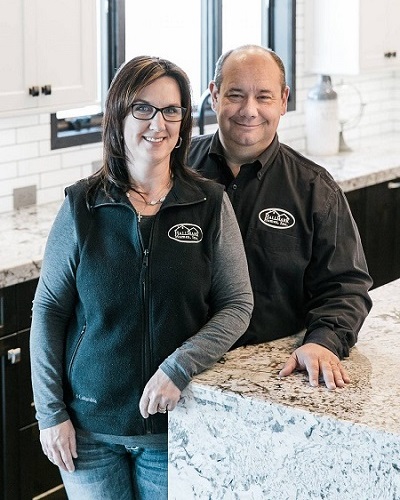 We work with a national nonprofit called Rebuilding Together that helps low-income homeowners repair their homes. Vicki is on the board of the local chapter that works in the Bismarck-Mandan area. It's a lot of work and it has great rewards. Many well-deserving people apply — often elderly or handicapped people who need things like wheelchair ramps or to get interiors rebuilt so they can stay in their homes. Our framer and drywallers volunteered to help an older gentleman who couldn't get into his bathroom. The framer reframed and retrimmed the door and it helped make the man's life better. It's amazing to be able to help change someone's life. It's very satisfying.
Visit the JELD-WEN website to learn more about our products.