High-quality windows and doors make a big difference when it comes to the overall look and feel of a home. Wood is often considered the ideal choice due to its natural warmth, timeless beauty, and wide variety of design options. However, all these benefits contribute to its premium price – and that price doesn't account for the upkeep required to maintain the aesthetics over an extended period of time.
On the other hand, vinyl windows and doors offer reliable, lasting performance but are limited in design choices. These two popular materials commonly leave homeowners with a decision to make: choose aesthetics, performance, or budget. But JELD-WEN has harnessed new advances in composite material technology to develop a new choice that combines the best of vinyl and wood: Auraline® True Composite windows and patio doors.
What is Wood Composite?
When it comes to windows and patio doors, wood composite is the most popular type of composite material on the market. Wood composite is a broad term that covers a range of man-made wood products – it's also referred to as engineered wood or wood-plastic composite (WPC). Plywood, Trex decking, MDF, and particleboard are all common examples of wood composite materials used in construction.
For window and door manufacturing, wood composite can refer to various materials, including:
Vinyl and wood veneer: with these types of composites, a wood veneer is attached to the vinyl, providing the look of wood without the additional cost. This composite development is popular and offers improved aesthetics without the traditional upkeep required for wood products.
Fiberglass and wood: this type of composite is typically manufactured by bonding a fiberglass exterior with a wood interior. This combination allows the product to expand and contract, enhancing the strength and durability of the final product. This composite is also available in a myriad of colors and shades to complement both the interior and exterior of a home.
Wood chips and recycled plastic: this is the newest composite option on the market known as true composite. It's a mixture of particles and fibers from different wood species combined with plastic along with adhesives to bind them together. The wood is often sourced from mill and factory furniture waste while the plastic pieces are typically recycled milk jugs or shopping bags. The raw materials are combined and fed into an extruder that melts the mixture, forming a three-dimensional shape.
What is Auraline® True Composite?
JELD-WEN exclusive Auraline® True Composite is the best of both worlds: the beauty of wood with the strength and durability that surpasses vinyl, so homeowners can enjoy the luxury look for less. Auraline® True Composite is the next generation composite, a blend of structural fiber and synthetic polymers with co-extruded color.
This proven technology of industry-leading composite decking, optimized to create beautiful, durable windows and patio doors that work in all climates. It combines the strength and durability of wood with the rot-resistance and low maintenance needs of vinyl or aluminum.
Now that you have a better understanding of composite options, let's look at the applications and advantages of choosing Auraline® True Composite material compared to traditional wood or vinyl.
The Benefits of True Composite Material
Since it's a synthetic material, true composites resist warping, splintering, and other defects that tend to arise when working with real wood. True composite wood also doesn't require treatment to prevent termites or carpenter ants. These benefits highlight exactly why it's a preferred material for outdoor decks, sheds, and other structures.
Additionally, true composite wood products offer cost savings and offer a luxury look at a lower price point. Add this benefit onto the decreased need for maintenance and the improved performance over time, wood composite materials are an easy win for homeowners looking to save money in the long term.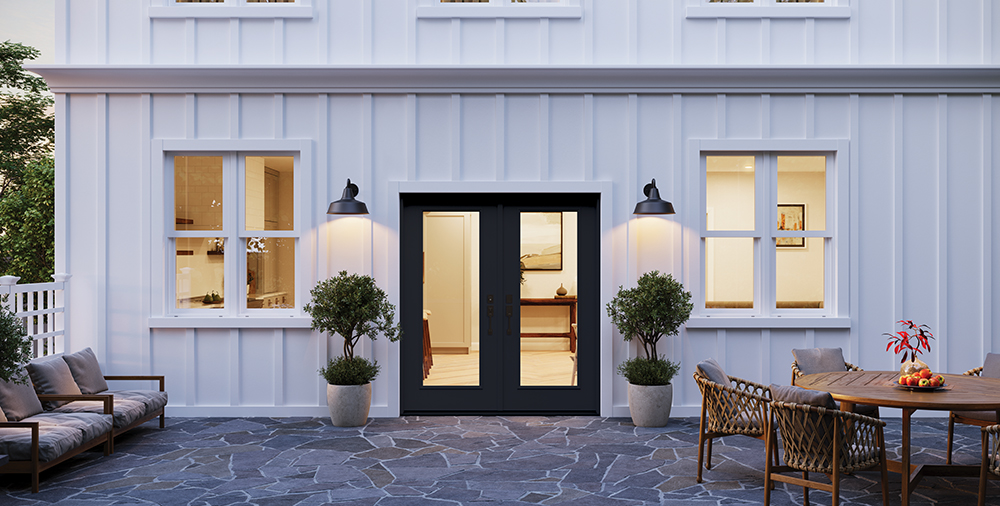 Why Choose Auraline® True Composite?
Traditionally, builders don't have many options when it comes to wood composite fenestration products. To fill this unique gap in the market, JELD-WEN created Auraline® True Composite windows and patio doors. "The Auraline product line fulfills our ongoing commitment to innovation and sustainability, and we're excited to make these next-generation windows the composite standard in our industry," said John Krause, SVP & GM, North America at JELD‑WEN.
This is what you can expect from the Auraline product offering: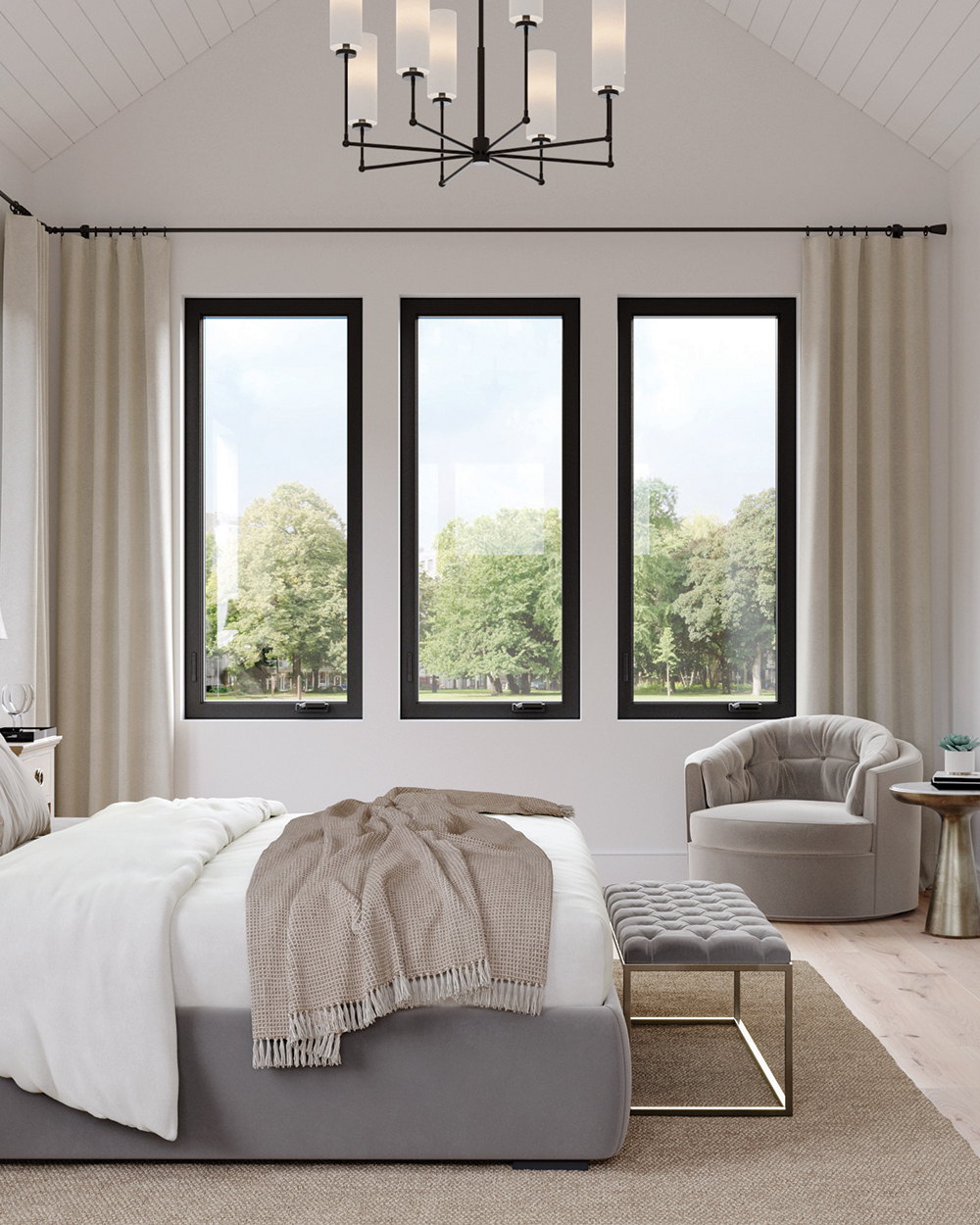 Durable, long-lasting color: the co-extrusion manufacturing process fully bonds the material to its color, so no painting is required. Co-extrusion also makes the surface extremely durable, scratch-resistant and resists fading, flaking, or peeling.
Slimmer sightlines: slimmer sightlines are a signature of Auraline windows, which provide up to 28% more visible glass. More visible glass means more natural light and better views, effectively bringing the beauty of the outdoors inside.
Architecturally correct designs: with unobstructed sightlines and mechanically fastened corners with no welds, these windows offer elevated aesthetics.
Easier installation: Auraline is two times more rigid than vinyl, which offers improved resistance against warping and sagging over time. Its rigidity also makes installation easier. As a licensed contractor, Josh Temple explained, "I was able to put most of [the windows] in by myself. They're light, they don't wobble or flop around, you can just pick them up and put them in. As a contractor and installer, it's a really nice gift when you can get a job done by yourself."
Energy efficient: Auraline's standard glass package is 38% more efficient than a basic glass package. Select Auraline products are also ENERGY STAR certified for specific regions.
Guaranteed quality: all Auraline windows and patio doors are supported by a 10-Year Limited Warranty, meaning building professionals and their clients can rest easy for years to come.
Offer Clients a Win-Win for Windows and Patio Doors
Composite windows and patio doors offer homeowners the beauty of traditional wood while requiring lower maintenance and delivering increased strength at a competitive price. They also make it easy for professionals to install. "We've seen how durable composite materials are for decks, and now we have the same option for windows and patio doors," Temple says. "It's cool for me to say, 'Hey, I've got this new window you've never heard of; it shows I'm doing my research, and that helps put the homeowner at ease."
Auraline® True Composite products are the next-generation of windows and patio doors. Discover everything Auraline has to offer here.